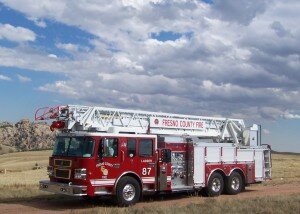 Smeal Fire Apparatus Co. is one of the Nebraska manufacturers we've been following closely for many years, watching proudly as in March of 2014, the company was chosen from a host of applicants to provide a new engine for the Lincoln Fire Department (you can see the full blog post here). In August of 2014, we covered Smeal's exponential product growth and rising industry status, expanding even at a time when most municipal budgets were smaller than ever.
Today, we're happy to report that the growth will continue in 2016. This week, the Neligh News reported that the local fire apparatus manufacturer will not only expand operations, but will almost double the workforce at their Neligh plant. "We have done a lot of research to stage ourselves for growth so when the time was right, we were at the table with actual conversations in how to make this possible," Neligh Economic Development Director Greg Ptacek told the Neligh News. "Antelope County and the Neligh area really have the capacity to handle 25 new employees. This is going to be huge for Neligh."
Smeal is the namesake company of founder Donald Smeal, who opened a repair shop in Snyder, Nebraska under the name Smeal Implement Co., back in 1955. His interest in all things mechanical, derived from his boyhood on the family farm operating steam engine tractors, translated into a blossoming custom farming machinery business. In 1963, Snyder Rural Fire Board asked Donald, a volunteer firefighter, to fix a leak in its fire truck tank. Instead, Donald designed and built a new fire truck with a portable and PTO water pump, a 1200 gallon water tank, a body with an enclosed crew cab, and a 42' hydraulic aerial ladder, the first to combine these features onto one truck.
You can read the full company history here, but what's important to know is that Donald's legacy has blossomed into a rapidly expanding company with 26 dealers throughout the United States and Canada, a full line of fire fighting apparatus, and a countless number of lives saved and fires extinguished, thanks to the company's high-quality products.
Now, the company is looking for skilled workers to help fill orders in their Neligh plant. Because of the struggle to find skilled workers in Snyder, Smeal plans to move the primary welding operations to Neligh, along with some other positions transferred from their plant in Delavan, Wisconsin to Neligh as well. Jeff Scherer, Smeal Chief Financial Officer, explains that "we sold nearly twice as many trucks this past year as we did two years ago. Now our challenge is to get those trucks built, and in order to get them built, we need people. Just like the Marine Corps, we are looking for a few good men and a few good women, and I know we can find them here in Neligh, Nebraska and the surrounding communities."
In 2014, we reported that Smeal was primarily in need of welders, and the report remains true today: Many of the 25 positions Smeal will create are for welding hires. Experience is welcome, but Smeal is also willing to train welders, and has teamed up with Northeast Community College for assistance. To quote company president Mark Huber, "we need anybody who has skill, aptitude, and attitude, who are ready to come and play, and we can train with the help of the college."
To read more details about this exciting economic expansion in Northeastern Nebraska, check out the full Neligh News article here. If you are interested in a welding position with Smeal, leave a comment in the section below or email max@smeal.com any time!
—
Photo credit: Smeal Fire Apparatus