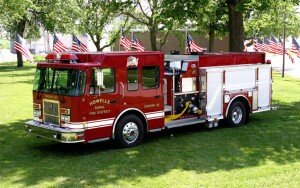 If you thought buying your first car was a big decision, Lincoln Fire Chief John Huff can help put things in perspective. As he signs the check for nearly $330,000 to purchase a new fire engine for the city of Lincoln, Huff recalls the tumultuous time when the city purchased seven engines in 2006.
Under the direction of then-fire chief Mike Spadt, the department was preparing to replace half of the existing fleet with this purchase. Instead, none of the engines met specifications, led to rebids, and accumulated hundreds of thousands of dollars of late fees on top of the $2 million contract needed to purchase the machines in the first place. Spadt resigned and assistant chief Huff was suspended, fired, and rehired as a result of the mess.
"I've had enough of a purchasing lesson that I don't need another one," said Huff to the Journal Star.
Hence, this time the city turned to a Nebraska fire apparatus manufacturer to help renew the aging collection of fire engines. The city's purchasing agent, Vince Mejer, reviewed the needs of the department and contacted all apparatus manufacturers previously related to the city of Lincoln. The firms submitted proposals in what was called a "clear, transparent process" by Mejer, and Smeal Fire Apparatus was chosen to provide the engine. When it arrives this fall, it will be inspected by the purchasing department as well as the fire department to make sure it meets all specifications.
Based in Snyder, Nebraska, Smeal Fire Apparatus was born in 1963 under the wing of volunteer firefighter Donald Smeal. After the Snyder Rural Fire Board asked Don to fix a leak in the tire of their fire truck, Smeal offered to design and build an entirely new one if the city were to pitch in with a new chassis. He designed the first-ever fire truck with a portable water pump, 1200 gallon water tank, enclosed crew cab, and 42" aerial ladder.
This led to demands from other communities, and today Smeal Fire Apparatus still serves in 26 markets around the country. With thousands of firetrucks and aerial ladders currently in local fire departments, the company plays a large part of serving the needs to save lives and put out fires. Although Donald Smeal died in 2004, his survivors continue to run the family business.
It's comforting to know that Lincoln's fire department will be well served by the Nebraskan-made engine created by a family owned business business. With companies like Smeal in our state, it's certain that the level of our safety and production will only improve and contribute to the success of Nebraskan manufacturers.
—
Photo credit: Smeal Fire Apparatus