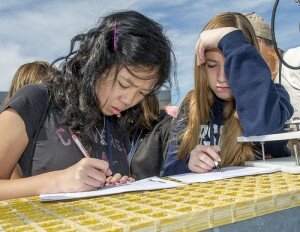 Women are an untapped source for filling the skills gap and reducing the disparities manufacturing currently has between workers and positions. But why is this the case? Why aren't women more involved in manufacturing? Great question.
Well first, there's the issue of incorrect stereotypes that massively harm the way we think about manufacturing. In engineering and science-related fields, the idea of male dominance in the workforce can intimidate and/or frighten women away from following an interest in that area. Forbes calls it "misperceptions" about women in manufacturing, or STEM-related fields as a whole, and that's simply something that needs to change. Second, many women don't know where to begin. Finding a mentor, utilizing the web, and persistence are all absolutely important, but it can seem like a massive hurdle to overcome at the beginning of a job search.
This isn't to say that men don't feel intimidated by STEM-related careers as well, but it seems to be more of an image issue for women. Things are getting better, thanks to organizations like Girls Who Code and more, but there's certainly plenty of work to be done.
So today, we thought we'd share some advice for women who want to get involved in manufacturing from some pretty spectacular ladies who've done it themselves. Nobody can advise better than someone who's already walked the walk, and these women will make a difference for generations to come.
Find a Training Program
Alison Grealis, founder and Executive Director of Women in Manufacturing and Vice President of Membership and Association Services for the Precision Metalforming says this: "The root of the problem actually begins much earlier than the workforce. Studies have found that young girls may have high math and science test scores, but they still steer clear of careers that require those same skills. At WiM, we are doing our part to eliminate those intimidation factors and encourage women and girls of all ages to pursue STEM. Building a solid infrastructure of a supportive community is important because we often hear from our members that they were not planning on a career in manufacturing until someone along the way recognized their talent and encouraged them. One great thing about manufacturing is that it is never too late to get involved in training programs."
Support Community
Christina Canavesi founded LightTop Tech in May 2013, and talks about how engineering is a male-dominated field: "And there aren't as many women role models to look up to. I founded the Women in Engineering Group in 2009 at UR…I wanted to create a forum where we could meet successful engineers that could tell us about their career experience. I think having this type of forum for women students to learn about how women can be successful in this field is very important as an opportunity for networking and seeking mentorship."
Have Courage
Lynne Henson, president of Superior Abrasives, says this about women who hope to become leaders in the manufacturing industry: "Meet the other women who are doing it and have them mentor you. That's crucial. And, it really is about being able to prove yourself and have that courage to be a 'guy,' be like the guys, be in a man's world."
—
photo credit: The Global Learning and Observation to Benefit the Environment (GLOBE) program visits NASA Goddard via photopin (license)