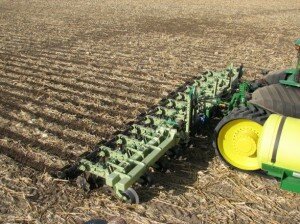 As far as we're concerned, no amount of talk about manufacturing in our state is too much. There's a reason we're a part of NeMAC–we love manufacturing!
Unsurprisingly, our state's governor, Dave Heineman, loves manufacturing as well. As we've mentioned here on our blog, Gov. Heineman has been a long-time proponent of manufacturing. In his most recent efforts, however, Gov. Heineman embarked on a "Salute to Manufacturing" tour, attending National Manufacturing Month events all throughout the state.
His most recent visit was to Orthman Manufacturing, a company we featured on our blog earlier this year in a post about agronomy. Orthman, a leading high-quality agricultural equipment and implement manufacturer, was touted by Gov. Heineman as a great example. They're growing and hiring, allowing young people to stay and work in Nebraska.
As the Lexington Clipper-Herald notes in its article about Gov. Heineman's stop at Orthman, Gov. Heineman had nothing but good things to say about Orthman Manufacturing and about the general progress of manufacturing here in Nebraska.
"We're trying to let young people know the manufacturing jobs of today are different then they were 25 years ago. Whether they are looking at a two-year or four year degree, there are opportunities in manufacturing in the area you should look at," Heineman said.
The Lexington Clipper-Herald continued on to report more of Heineman's remarks: "Nebraska exports to more than 170 countries, selling manufactured goods and services totaling more than $7 billion dollars. Manufacturers employ nearly 10 percent of Nebraska's workforce with an average salary of $55,000. Manufacturing careers are important to Nebraska's economy as we continue to make Nebraska an even better place in the future to live, to work and to raise a family."
Gov. Heineman really does say it best: people who work in manufacturing here in the state can expect to have high salaries and stable careers, all while making a positive contribution to the local and national economies and having a great place to raise a family. It's hard to imagine a much better situation than that.
We couldn't agree more with Gov. Heineman's remarks, and we continue to be proud of the state of the Nebraskan economy and its manufacturing sector. For a stable career and bright outlook, manufacturing is an excellent pathway to pursue.
—
Photo credit: Orthman Manufacturing