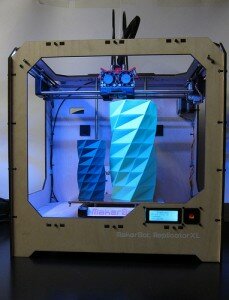 On TechInsider about a week ago, editor Sam Volkering discussed how it's important to understand technology in two different ways. On one hand, through cyber attacks and other malicious technological usages, technology has the power to corrupt, destroy, and bring more negativity to already challenged lives. On the other hand, there are people who've made it their life's work to use technology to positively impact lives. Volkering goes on to discuss 3D printing, a topic that's never far away from a discussion concerning creation and technology.
The industry of 3D printing is possibly one of the most dynamic there is—with new printers, resources, and possibilities being discovered every single day. It's the ultimate tool for makers, and is one of the technological ways that we have the power to change lives. For example, doctors and manufacturers have 3D printed a bone to replace a cancerous one in a 71-year old Australian man's heel. Instead of amputation, this was an option, and certainly one that will make his life fuller and happier.
The best way to truly understand the importance of 3D printing is to do just that– try it yourself! Here are a few places in Nebraska that offer 3D printing technology for you to experiment with and use.
Objet 30 Pro 3D Printer:  The criteria for this printer require that you are a faculty member, graduate, or undergraduate student at the University of Nebraska-Lincoln. If you are, then the printer is fair game! Printing costs $0.55/gram of materials used (including plastic and support). The density of the plastic is 1g/cc. To use the printer, visit this page to find where to be trained. After you're trained, you can use the printer whenever you'd like to create whatever you'd like! A single-time training fee of $10 will be applied to your first print job– so between that and the cost of materials, it's a pretty cost-efficient way to create and design. If you're currently a student considering the University of Nebraska-Lincoln, access to this printer is absolutely something you'll want to take into consideration!
Omaha 3D Print: Two brothers born and raised in Omaha are the owners and operators of Omaha 3D Print. They began in a garage, testing the limits of their Solidoodle 2 3D Printer, and now take orders to print just about anything. If you send them the 3D object file, they'll print it right away. Another cool thing is that if the printer is currently creating something, you can watch it live online! Even if it's not your order, watch here to see the process.
UNO Criss Library: The University of Nebraska-Omaha has the MakerBot Replicater 2x that prints with ABS Filament! You can design something in SketchUp, TinkerCAD, Blender, or a few other well-known programs. Small items take about 25-35 minutes to be printed, while larger items can take up to a few hours (still an astonishingly short amount of time to create your design!) Learn more about how to use the printer and costs here.
If you print something cool, send it to us as a tweet or leave a comment on our Facebook page! We'd love to see how Nebraskans are utilizing the resources we have to print right in our own backyard.