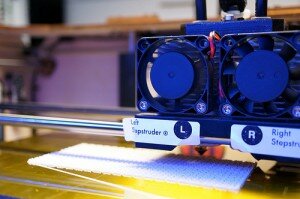 3D printing, or additive manufacturing, hasn't lost its place in the hearts of manufacturers, makers, and consumers around the globe. In fact, additive manufacturing is revolutionizing the way that we think about how we make and purchase products and services.
If you're just a regular person without the skills to engineer your own complex creations, 3D printing is an invention that brings the power to the hands of the people. People have the opportunity to create, invent, and manufacture their own products like never before, and that's pretty amazing.
In that sense, it's a perfect fit for other new technologies, like crowdfunding websites. We mentioned it briefly in a post here, but there's something organic about the idea of a relatively new technology for fundraising helping to support an equally new method of manufacturing.
If you're not completely familiar with Kickstarter, the basic premise is that it's a website designed to fund creative projects, big and small. Independent creators make a project and create a funding goal and deadline. If people like the project, they can pledge money to help make it happen. It's a little risky, because projects must reach their funding goals to receive any money at all, but the hope is that this risk will incentivize people to commit and rally around an idea. There are all sorts of websites with similar functions, and Forbes lists ten of the best ones.
What's been fascinating to watch is the development of additive manufacturing technology and crowdfunding as they change the world, hand-in-hand. Here are two of the coolest 3D printing products we've found that were funded completely by a large group of people showing their support on a crowdfunding website.
Stealth Inspired Low Profile Laser Sintered Wallet: This wallet is just finishing up the campaign as of September 2015, and has not only achieved their financial funding goal, but surpassed it in a major way. They began with just a $770 goal, but so far, it's raised a whopping $11,742 (as of the time this post was written).
The wallet is "designed with the aesthetics of the F117 Nighthawk in mind … so lightweight, you'll barely notice it in your pocket." It's made from polyamide and can store up to 7 credit cards. The wallet's design was inspired by the way the aerospace industry creates turbine blades in a Uni-body one piece design to take advantage of the additive manufacturing process. Check out the wallet and invest in the project at the link above.
O Watch: A 3D Printable Smartwatch for Kids: This project will be funded until Saturday, October 3, so there's still time to invest if you're interested! Their goal was $15,000 and they've raised $17,148 so far from interested parents and STEM aficionados around the world. It's essentially a smartwatch kit that will help kids get started with hands-on programming and 3D printing.
It comes with a complete set of easy-to-use instructions for creating an actual smartwatch. It isn't in the title, but what's coolest about this project? The inventor is an 8 year old named Omkar who became interested in electronics and programming when he was five. Luckily, Omkar has parents who work in the technology industry and are supportive of his goals and dreams.
Do you have a dream of making something that could change the world (or is maybe just really awesome)? Now's your chance.
Questions? Comments? Want to learn more? If you're curious about the world of 3D printing on Kickstarter, go to the website and type 3D printing into the search bar: You'll be amazed at what you find!
—
photo credit: DSC05730.JPG via photopin (license)