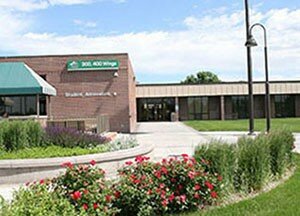 Central Community College is expanding, both virtually and physically.
Surveys of local Kearney manufacturers clearly signal a need for trained workers (according to the Kearney Hub, a survey of major manufacturers indicates that they will hire almost 460 skilled employees in the next five years), and Central Community College is stepping up to educate and train those future employees in a few different ways.
For one, CCC is taking note of the fact that enrollment in their Virtual Campus during the 2014-15 academic year was about 25% of total college enrollment, and surveys of graduating high school students show that this number will likely increase. The Virtual Campus, CCC's video and online distance education program, is now undergoing a year-long $2.4 million upgrade and expansion to help CCC students reduce their costs of attending schools.
The Virtual Campus will now include the capacity for high-definition video links between CCC's other campuses in Columbus, Grand Island, and Hastings, as well as its centers in Holdrege, Kearney, Lexington, and ORD. This means that students can access recorded classroom videos and review missed lectures. CCC will also have an improved ability to link to area high schools and provide them with video-based lecture courses. "Providing local access means students don't have to drive to campuses and centers and that saves them both time and money," said Dr. Eric Jones, associate vice president for the Virtual Campus, to the Columbus Telegram. "It also enhances the college's commitment to reducing its environmental and operational costs."
In addition to the Virtual Campus, Central Community College will also continue to work on a new future campus near Kearney High School in Southwest Kearney. They're working through making decisions on programming based on a survey of the county's largest industrial and manufacturing employers: "You only get a chance to build a brand-new building like this once every 30 to 50 years," said CCC Executive Vice President Deb Brennan.
The campus currently is slotted to have a one-year mechatronics diploma program, which would train electromechanical technicians. They would also have an advanced manufacturing program, which would train machinists and CNC operators and controllers, and potential programs in information technology and industrial technology along with an expansion of CCC's existing nursing and health-related programs.
They are also considering adding a welding program, but the programs offered at this specific campus are dependent on local workforce needs, space requirements, and other considerations. Brennan tells the Kearney Hub that "We really do look at employer demand before we offer something on multiple campuses." Brennan is also working on agreements with Kearney High School and the University of Nebraska that will make it easier for students to move through all levels of education.
Whether you're interested in virtual education and learning from afar, or heading to Kearney's brand new campus for some outstanding technical education, Central Community College plans to expand to fit your needs. Questions? Comments? Want to learn more? Leave a comment in the section below, any time!
—
Photo credit: Central Community College