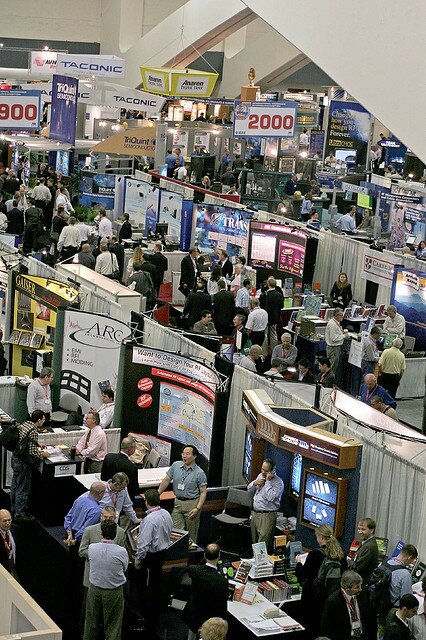 One of the best ways to learn about a trade is– you guessed it– a trade show (sometimes called a trade expo or trade fair, depending on where you are). Filled with vendors and attractions, trade shows are a great way to meet and mingle with the who's who of a given industry or field.
There will be booths and products from all aspects of a given industry, meaning that the theme of trade shows is usually fairly broad– there's something for everyone.
For the STEM-minded or those interested in any aspect of the manufacturing industry, here are a few notable trade shows and expositions around the Nebraska area that could be worth the trip. Make a day of it, and you'll learn more than you ever knew you could.
2015 Nebraska Water Industries Trade Show: (February 10, 2015: 8:00am-5:00pm, 416 W. Talmadge Road, Kearney, NE) Hosted by the Nebraska Well Drillers Association, this trade show is a perfect fit for anyone interested in businesses and industries dealing with water well drilling, pump installation, manufacturing, and the supplying of equipment and material for water well work! The NWDA is over 75 years old and was established by key industry leaders and academicians from the University of Nebraska. Even if you don't know much about water well work, it's the perfect chance to find out more about manufacturing and other areas of the field. For those looking to exhibit, the show is down to less than 30 booths available, so if you wish to exhibit, turn in your paperwork to jason@h20boy.net.
2015 Triumph of AG Expo: (March 11-12 2015, CenturyLink Center, Omaha, NE) Nebraska is well known for both their manufacturing industry as well as their agriculture industry, meaning that this trade show is one of the most substantial of the entire year– definitely one to mark on your calendar. Industry experts and over 900 professional exhibitors attend the show to feature products that serve agricultural requirements of area farmers. From antique farm tractors to metal art items, the two days of the show will showcase just about everything you can imagine (including chemicals, hauling and harrowing equipment, heaters, seeders, bolts, air filters, and more). Chat with agricultural manufacturers to learn more about what it's like as a manufacturer in the agricultural industry, and browse the booths of products you never even knew existed.
Nebraska Power Farming Show: (December 8-10, Lancaster Event Center, Lincoln, NE) This show is somewhat similar to the Triumph of Ag show, but is more closely focused on power machinery farm equipment. In addition, it's located in early December at the end of the year for a reason: Many growers are considering year-end tax-planning purchases at this time, and the show generally has some end-of-year deals on power equipment. This attracts the best and the brightest of farm equipment manufacturers like CaseIH, Challenger, Massey, John Deere, and more. Other focuses include row crop, irrigation, seed handling, livestock equipment, fertilizer and chemical, and more. With over 940 companies represented, it provides a glimpse into the world of agricultural machinery manufacturing like no other show.
We recommend any and all of the above, so make sure to mark your calendar and save the date!
—
photo credit: mtt_ims2006 via photopin cc