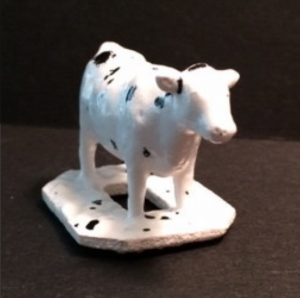 Investment group Linseed Capital recently expanded into central Omaha, at 719 S. 75th St., to be exact. Linseed, formed by Dr. James and Karen Linder, bought both the building (coming in at 10,000-square feet) and the adjoining home next door, said the World-Herald. The space will be used as office space, as well as a home for some of Linseed's tenants (coincidentally, a company also owned by the Linders), one of which includes Tethon 3D. The home next door will be used for visitors to stay in when they come to do a residence with Tethon 3D. In other words, Omaha's first Ceramic 3D printing business will finally have a home.
We've talked a lot about 3D printing (or additive manufacturing) on the blog before, but not so much about materials other than plastic that are being used to create these exciting products. Tethon, founded by the Linders, focuses on ceramic material to craft products for industrial, manufacturing, and design industries. The name comes from the word for White Buffalo in the language of the Omaha tribe of Native Americans– White Buffalos exist in nature, although they are rare and difficult to find, the Linders say. And as Tethon was founded in and operates in Omaha, it seems a fitting title for a company working to advance the field of manufacturing.
Along with 3D artists, ceramic sculptors, and technical directors, the Linders' diverse backgrounds provide solid footing for experimentation and the melding of art, sculpture, and technology. Karen Linder is as a Cytotechnologist (one who studies cells) and Jim Linder is a pathologist who has successfully commercialized two medical devices. Jim also serves as interim president of the University of Nebraska, and the President of the University Technology Development Corporation at the University of Nebraska as well.
What Tethon can do with their ceramics is pretty amazing. From fine art to architectural reproductions and models, archeological reproductions and functional designs, the company produces (and can produce for you!) everything from biomaterials for bone growth and reconstruction to ceramic molds to tolerate high temperature metal casting. Check out their website for videos on the modeling and kiln firing steps in the process.
And if videos aren't quite enough for you, you're in luck! Tethon actually offers workshops at their facility that include 3D design, printer set up, running, printer cleanup, and maintenance. They also walk you through the object cleaning, firing, and glazing. The final objects you create are shipped to you after the workshop– not a bad deal! Pricing and more details can be found here. And by the way, for teachers, Tethon offers one-hour free seminars to educational institutions within 150 miles of Omaha.
You can learn more about Tethon here, or leave a comment below! We'd be happy to help answer any questions you have about this exciting business we have right here in Omaha.
—
photo credit: Tethon3D.com