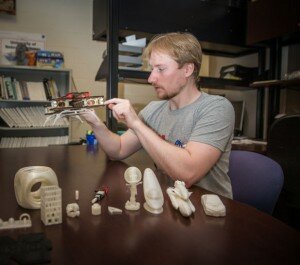 The days when 3D printers were only available to scientists and researchers are long gone. As the new technology begins to trickle down to college campuses and high schools, opportunities for collaboration and education are growing–even in extracurriculars.
Thanks to the University of Nebraska-Lincoln Engineering College (whom we've highlighted here on the blog many times for their achievements and advancements in science), a partnership with another club at UNL resulted in a fantastic learning experience for both parties.
As with many learning opportunities, the story of the UNL Rifle Club started with a niche to be filled, reported the Lincoln Journal-Star. The club had enough .22-caliber and air rifle equipment for most of their shooters, with the exception of 'southpaws' (left handed shooters). Instead of heading to eBay or another Internet supplier, the club asked the College of Engineering to help 'engineer' a solution to create new grips for the southpaws.
In thirty-two hours, the engineering college students created a 3-D scan of a right handed grip, uploaded it into a computer, mirrored it, and sent it to the printer. The facilities at UNL house two printers, but the grips were created by the Makerbot Replicator Z18 3-D printer, installed in the American Institute of Aeronautics and Astronautics lab earlier this month. The printer melted a spool of polylactic acid into a usable grip.
The total time of thirty-two hours provided the students with some valuable insight for future print jobs. "That's a long time, but it beat the computers' guess of 42 hours," said Matt Mahlin, a mechanical engineering graduate student. "It's great for prototyping and perhaps creating molds for injection molding. It's great for what we do and making new designs and learning to transform something from your 3-D model into a physical part." It may not be great for mass production just yet, but it's still a pretty exciting way for the engineering tools to be used to support the rest of their campus.
The experience is also great for students to analyze the possibilities and challenges of 3-D printing even as scientists and end users attempt to figure out how to use it for businesses all over the world. For UNL students, it leads to excitement and anticipation at the thought of figuring out other ways to use printing with other clubs and organizations.
Especially with experiences such as this one, students and faculty alike are entering a new era of technology and science ripe for development. For those interested in science, technology, engineering, or related fields, it's a huge boon to have such an incredible facility at the University of Nebraska-Lincoln available for creative output and projects. To learn more about the programs available at UNL or even with general questions about 3-D printing, make sure to leave a comment on our page or send us a tweet! We'd love to hear what you have to say.
—
Photo credit: Dan Little/Lincoln Journal Star