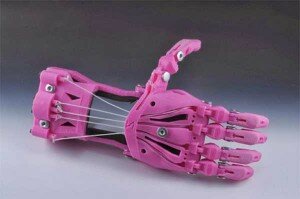 3D printing has revolutionized the world in many ways, but one of the most emotionally stirring ways is by creating prosthetic limbs for children.
According to PBS, a prosthetic arm goes for around $40,000 these days, a steep barrier to access for most children and families. However, with a 3D printer, about $10 or $20 worth of plastic will create a useful prosthetic.
Additive manufacturing has been able to reduce the cost and create a life-changing addition for the 1 in 2,000 kids born with some kind of an arm or hand abnormality. While not as sturdy as a $40,000 titanium artificial arm, Rochester Institute of Technology research scientist Jon Schull notes that "if you outgrow it or break it, you can make another."
Here are a few of the Nebraska citizens who've benefited from such innovations, and a few of the companies who have literally changed the trajectory of a child's life by providing them with the mobility necessary to succeed. If this doesn't make your day happier, we don't know what will!
Nebraska 9-Year Old Gets 3D Printed "Star Wars" Arm: Provided by Limitless Solutions in Orlando, Nebraska nine-year old Alvin Garcia Flores received his 3D printed bionic arm just last Thursday—it was even delivered to him by Darth Vader. Terry Burton, president of Alvin's Gateway Elementary School in Omaha made the initial call to see if Limitless could help Alvin with a Christmas surprise. "I hope that the arm gives Alvin more self-confidence at school around his peers," Burton noted. The arm was designed by a team of UCF students and will last around 12 months, using electrical currents in the wearer's muscles to control the hand.
Creighton Professor Invents the Cyborg Beast: According to WOWT.com, Dr. Jorge Zuniga at Creighton University first heard about the possibilities of 3D printed prosthetics on NPR. So, he invented the "Cyborg Beast": A fully-operational hand that works with the movement of a partial arm or hand a child still has. No one on his team of students, prosthetists, and doctors is paid, and no one pays for the medical devices either. Aryanna Loaziza, a six-year old, has already received a hand and loves the bright colors. "I like the purple," she said, noting that it matched her Frozen bedspread. The goal of the hand is to get children used to wearing a prosthetic so that they can use what's left of their hand effectively as they age.
Student Provides Free Service for Printed Hands: Also at Creighton University in Omaha, student Marc Petrykowski designs and prints 3D hands for free, amongst other items. Petrykowski tells 3DPrintWise, "the material cost for each hand varies, but it is usually in the range of $50-$200 per hand . . . it is no longer about money, but a question of getting the right design and people in need knowing about this 3D printing project . . . we are making a huge difference to many other people in unfortunate circumstances." To contact Marc about a 3D prosthesis need, email him at petrykowski.marc@gmail.com.
Questions? Comments? Want to learn more? Leave them in the section below!
—
Photo credit: 3D Printing Pin