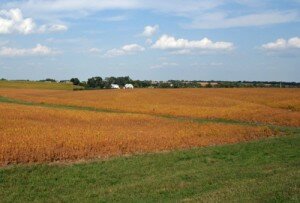 If you haven't strolled into the Nebraska Center for Materials and Nanoscience lately, you may be unaware that Nebraska is home to one of the premier nanoscience and nanotechnology research facilities in the world. Even if you are aware of it, you might not be entirely sure what nanoscience and nanotechnology entails, and you're not alone.
Those who are interested in manufacturing technology will want to take note of this exceptional center. In January of 2014, we wrote about a cutting-edge innovation when UNL researchers created the world's fastest thin-film organic transistors. That discovery, along with thousands of others, took place within the facilities of the NCMN.
This week, the center made news once again as the recipient of a five-year, almost $3.5 million dollar grant to transition the center from local to regional. The NCMN was founded by the Nebraska Board of Regents in 1988 to provide the State of Nebraska and the University of Nebraska with a nationally recognized center of excellence in materials research science.
The faculty who work under the purview of the center conduct research in nanoscale materials for magnetic and information technologies, electronics and sensors, energy systems, and sustainable manufacturing—in other words, you have these professors to thank for some of the developments in solar and wind energy. Since 2008, NCMN's external research funding has grown from about $1.0 million to $14.7 million, a notable achievement on its own.
The National Science Foundation took one look at what was happening here in Nebraska and included a grant for the Nebraska Nanoscale Facility. According to a university press release, the facility will be "one of 16 centers created under the NSF's National Nanotechnology Coordinated Infrastructure. The NSF program was created to advance the nation's nanoscience research by expanding the equipment and service capabilities of universities and industries." David Sellmeyer, a physics professor from George Holmes University, currently directs NCMN and will continue to direct the new facility.
There's some tremendously exciting manufacturing research happening at the center currently, and the addition of new facilities will only enhance the possibilities for these faculty. We don't discuss "nanomanufacturing" all that often on the blog, so for those who are unfamiliar, the National Science Foundation defines it as "the production of useful nano-scale materials, structures, devices, and systems in an economically viable manner." It's manufacturing on a minute scale with a massive impact. At NCMN, faculty like Dr. Yuris Dzenis research advanced functional materials and nanomanufacturing.
Sellmeyer said in the release, "most universities do not have the resources to buy these very expensive pieces of machinery. Our regional center will operate and maintain this complex equipment to help not only UNL's researchers, but also our neighboring universities, companies, and others … with hiring additional staff and purchasing new equipment, the center will hopefully benefit more people than just those in the UNL community."
We look forward watching Nebraska's pioneering research continue to grow with the addition of new facilities! Thanks to the National Science Foundation for investing in Nebraskan talent and innovation.
Questions? Comments? Want to learn more? Leave a comment in the section below, anytime!
—
photo credit: View of my drive home from work via photopin (license)