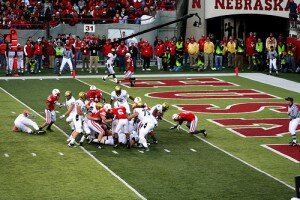 Log onto your computer, and connect immediately with hunting and fishing events in your area. Find athletes, pitch deals, and sign with agents in the blink of an eye. Earn free rewards on the golf course by downloading an app. Enter racecar data into an iPad for real-time tracking and inventory management. If you love sports and you love technology, now is a tremendously exciting time to be in Nebraska.
According to the Omaha World-Herald, over the last year, investors have directed more than $1 billion in venture capital nationwide for sports tech startup companies. Nebraskan companies are beginning to make a name for themselves in the niche world of sports technology, as well: Just last week on the blog, we mentioned Lincoln-based startup Hudl, as mentioned on the list of Inc.'s 5000 Fastest-Growing Manufacturers.
Kody Schrader, the Greater Omaha Chamber of Commerce's startup specialist, says that Omaha and Lincoln can "take pride that they now have proven success stories in sports technology." Christina Oldfather, entrepreneurship coordinator for the Lincoln Chamber of Commerce, tells the World-Herald that working together allows Omaha and Lincoln to benefit from the strengths in each community and cast the net wider for startup companies in terms of markets, customers, connections, funding, and talent."
The key for the future of Nebraska tech will be to work together to maximize strengths and open up new business opportunities. And, of course, to draw new technology workers to the industry to fill vital roles.
You can read more about Nebraska's new niche here, but we wanted to share a little bit more about some of the fascinating companies who are revitalizing sports technology here in Nebraska.
OpenDorse: This startup was co-founded in 2013 by two former University of Nebraska football players and their partner, Timothy Braun. Their mission is to make it simple for brands to easily secure endorsements with athletes, as well as actually see metrics that determine whether or not that endorsement is a good return on their investment.
The company has been highlighted by Forbes, AdWeek, and more for their ingenuity and innovation, as well as their big dreams: "Our mission is to power every endorsement in the world–by providing marketers with a premium research, activation, and measurement platform that enables them to reach and engage their target market like never before," says company CEO Blake Lawrence. "With this round of funding, we're positioned to solidify our status as market leader in the sports business industry, and build a world-class company, right here in Lincoln, Nebraska."
Hudl: Hudl's tagline is, "we help sports teams study themselves." Headquartered in the Haymarket district of Lincoln, the startup produces video analysis tools for teams of all sizes: It's the futuristic version of massive stacks of papers to review or videotapes to plug in. From football, to lacrosse, to track, the company creates products for both individual and team sports.
Racenote: This startup is also pretty fresh on the scene, as it was started in 2013 by some racing lovers who wanted to make taking inventory of car parts, keeping track of metrics, and logging data entry easier for racecars that are in the pit every day. Their app can be used with an iPad to easily manage each crew member's job and make the race process smoother.
If you think this is a field you may be interested in learning more about, leave a comment in the section below any time, and we'd be thrilled to connect you with relevant support.
—