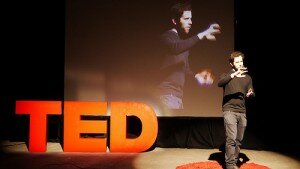 We're big fans of the TED organization, and have posted before about the best TED talks for anyone interested in manufacturing. In October, though, TED fans can take their love one step further by attending the conference right here in Lincoln, Nebraska: TEDxLincoln.
TEDx events began in 2008 to provide a more local, self-organized way to share a "TED-like experience." Since the initial TEDx conference, there have been over 6,000 events around the world, all designed to promote the spirit of ideas worth spreading. The Lincoln, Nebraska, version of TEDx events are planned and coordinated by a team of volunteers in Nebraska that have already helped host a few local events.
In 2014, TEDxYouth@Lincoln was held at Lincoln High School, and events have also been hosted for TEDxLincolnWomen. TEDxLincoln has even sponsored viewings for TEDxManhattan—the 2015 presentation was on "Changing the Way We Eat." Each event includes activities, speakers, presentations, and more, all focused on sparking deep discussion for both adults and youth.
In other words, you don't want to miss out! You can register now for their next event on October 1st, 2015, at Kimball Hall on the University of Nebraska-Lincoln campus. Randy Bretz, founder of TEDxLincoln, told L-Mag that he thinks it's worth adding to your fall lineup of events. "Part of what I wanted in bringing TEDx to Lincoln was to give people one more opportunity for education and sharing ideas," Bretz says. "Lincoln has plenty of sports events, for example, and it has great educational institutions. But after you get a degree, what do you do to learn? This is a way to continue learning—as someone said, it's like a 'spa' for the mind. It gives Lincoln an additional opportunity to plug in, do things and grow as a result."
Seventy-five ideas were submitted for talks at this year's event, but the committee narrowed it down to thirteen great speakers. Whether you're interested in manufacturing, science, technology, or just want to learn something new, this event is well worth your time. Here are two of the speakers for this year's conference that may interest manufacturing, economic development, and STEM-lovers.
Melissa Garcia: Melissa Garcia is a native of Broken Bow, Nebraska, a small city in Custer County with strong agricultural roots. Garcia will discuss the economic development of the city, where she was integral to the creation of over 200 new jobs and over 30 new businesses through her community-oriented plan. From Williams Welding to Johnson Metalworks, there are many manufacturers who moved to the city in 2014 to run their businesses—you can find the full list here.
Matt Waite: Waite is a professor of practice at the University of Nebraska-Lincoln's College of Journalism and Mass Communications, as well as a founder of Hot Type Consulting, a company that builds applications for media outlets. He's probably best known for his Drone Journalism Lab, where he researches how drones can be used to report the news. During his talk, Waite will discuss drone technology, learning to fly, and more.
Check out the full list of speakers here! We hope to see you there.
—