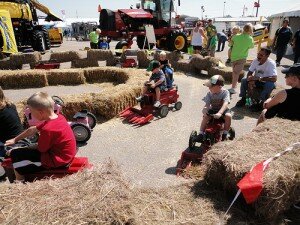 Here in Nebraska, August is a month of toasty temperatures, back-to-school preparation, and the kickoff for one of our favorite Nebraska events: The Nebraska State Fair.
This year, the fair will run from August 28th to September 7th and will be the state's 146th celebration of Nebraska culture and community. The first-ever state fair took place in Nebraska City in 1868, but the site moved from host city to host city (Brownville, Lincoln, and Omaha) until settling on the Lancaster County Fairgrounds in Lincoln in 1901. Five years ago, the fair moved to Grand Island and has continued to grow and evolve.
Since the move, events and entertainment director Chelsey Jungck tells the Scottsbluff Star Herald that "continual improvements…have made [the fair] more interactive and engaging and one of the leaders in technology among state fairs. It also helps us to deliver information to our guests' fingertips…our mobile app and our new interactive website allow guests to have instantaneous access to the information they want and need."
The efforts to improve the technological infrastructure of the fair are part of an attempt to increase STEM education and integration into the state fair experience. Last year, fairgoers could receive free temporary tattoos to showcase their love for STEM, and this year, there will be a new exhibit focusing completely on STEM in the Nebraska Building. Make sure to stop by "STEMming into the Future," suggests Jungck.
The fair is a celebration of many things: From corn dogs to Midway rides to concerts and music, there's an awful lot to do and see during your fair visit. Here are two of the exhibits and presentations that we're most looking forward to this year! The STEM-minded will appreciate the focus on Nebraskan manufacturing, science, and technology education that the fair provides in a myriad of ways.
What's Stem Got to Do With It?
This year, keep an eye out for the What's STEM Got to Do With It? series of posters that will be sprinkled around the fair. When you arrive, head to a food stand, hop on a Midway ride, attend a concert, visit the barns, and take advantage other stops; throughout your fair journey, you'll be able to learn how STEM concepts inform just about everything we experience in modern life.
The posters will make every experience a learning opportunity and will highlight how to create engaging, hands-on STEM learning experiences for Nebraska youth. Munch on deep-fried Nutella as you learn about STEM—sounds like a win-win to us!
UNL Food Processing Center: Nebraska Food Manufacturer's Exhibit
We've written about Nebraska's meat manufacturing industry on the blog, but this exhibit is a hands-on way to learn about Nebraska-made products. There will be samples and sales of food and beverages made completely from Nebraska products.
Last year, Country Rhoads Jalapeno Jelly and Herbal Gatherings Mustard, both made in the heart of Nebraska, gave delicious tastes of their product in the 4-H Building. We can't wait to taste the Nebraska food that's in store for us this year!
We'll share more of our favorite STEM events at the fair in the upcoming week! What are your favorite things to see and do? Tweet us or leave a comment in the section below!
—
photo credit: Peddle Combine Racing via photopin (license)