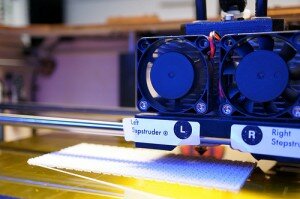 Check our past roundup from spring 2015, in which we featured some of the latest and greatest developments in 3D printing.
From cities to jet engines and cars, the 3D printing world is taking industry by storm and redefining what it means to be a maker. It's a dynamic media, and one that changes incredibly rapidly. So, without further ado, here are some of the most fascinating new creations that the world is whipping up in the 3D printing industry.
3D Printed Bridges: In the spring, we looked at manufacturers and makers creating entire cities and homes from 3D printed materials. It's one thing to make something that sits on solid ground, but a 3D printed bridge is stepping up the threshold for what these products can do: Can they literally provide support where there currently is none? A Dutch startup is hoping to find out, according to The Guardian. They want to build the world's first 3D-printed bridge over an Amsterdam canal. To do so, they'll use robotic printers that can 'draw' steel structures in 3D as they kick off the project in September: "The plan involves robotic arm printers 'walking' across the canal as it slides along the bridge's edges, essentially printing its own support system out of thin air as it moves along." The robotic arms will heat the metal to 2,700 degrees Fahrenheit to weld the structure drop-by-drop. According to the bridge's designer Joris Laarman, the underlying principle is "very simple." Clearly, definitions of "very simple" are all relative, but Laarman says that it's just a connection between an advanced welding machine to an industrial robot arm. We'll see what happens!
3D Printed Headphones: As of now, these bad boys clock in at between $200 and $40,000, but who knows where the product will end up? Headphone brand V-Moda is worn by Tiesto, Avicii, Nervo, Claude VonStroke and other DJs and people "in the know" in the music industry looking for incredible sound. The LA-based company recently announced their newest product: 3D printed headphones. You'll even be able to send custom designs to the company's team for special printing! "This new offering is not merely a game changer, it is the first time in history mass customization merges jewel-grade 3D printing with consumer electronics. Additive manufacturing for wearable technology is not only a product but a 360-degree service and paradigm shift for design and manufacturing," says company CEO Val Kolton.
3D Printed Medication: This one's pretty far away, but researchers have recently completed their first trial of 3D printed medication shapes. If you have a kid who's finicky about popping a requisite pill, maybe a 3D printed dinosaur shape from the pharmacy will help! "Researchers at University College London (UCL) are currently developing specialized tablets that look like they have the potential for not only great medical use, but commercial as well, offering users the ability to 3D print attractive shapes and flavors for kids," says Bridget Millsaps from 3Dprint.com.
Stay tuned for next season's update: Maybe you'll be listening to music wearing 3D printed headphones by then!
—
photo credit: DSC05730.JPG via photopin (license)