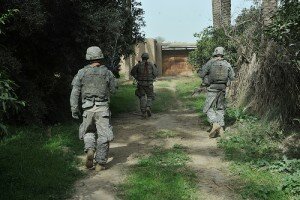 Transitioning to college, whether a university or a community college, can be a confusing and complex experience. The relocation, new lifestyle, and stress of challenging classes are overwhelming.
Heading off to school is exciting, but adapting to any new lifestyle takes time and effort. For the most part, this applies to all college students. It is also magnified immensely for veterans transitioning from the military to the life of a civilian student. However, the GI Bill (read more about the bill here) is designed to help veterans enroll in an institution with financial help for their tuition, housing, and books.
"The GI Bill isn't a thank you for your service. What it really is is a readjustment benefit. It is giving them the opportunity to do something that is constructive for their mind and their body, that gives them a mission and allows them to move forward in life. It's a backstop so you're not walking right off the plane from combat into the civilian world. It was designed to be a soft landing," said Tom Tarantino of the Iraq and Afghanistan Veterans of America.
One way to help veterans return as smoothly as possible is for them to find a field that is a good match for their skills demonstrated in the military. As we've mentioned on the blog many times before, manufacturing is a really wonderful way to do that. The military has manufacturing jobs and jobs with similar skillsets, so many members of the military have been trained in positions with substantial real-world application potential. Additionally, manufacturing is a dynamic field that allows people to work directly with their hands, can often include physical movement, and includes teamwork.
Even if returning veterans enjoy their work, love the manufacturing or STEM field they're learning about in school or working in, and are happy to be there, there are still challenges that come with transitioning home. Scott Ury, former security officer with two Iraq tours in the Air Force under his belt, says that he's simply bored by the life of a college student at the University of Missouri- St. Louis: "It's the mundaneness of it," Ury says. Students also miss the action and camaraderie of the military: "You were part of a group, where the big brother was looking out for the little brother," says Patrick Barry, UMSL student and former Marine combat engineer.
On a more basic level, many veterans find that they aren't ready to make the transition back home: The Washington Post reports that a Veterans' Employment Challenges study found that 44% of veterans participating in the poll said they weren't ready to make the transition to civilian life. For many, education can be the answer. Close to half of those who said they were not ready said they needed more education or technical training.
For Nebraskan veterans, the state has some extraordinary community colleges that can help ease the transition, give veteran students a community to join, and provide the education or technical training to help them land safely and soundly in the civilian world. Questions? Want to learn more about any of these schools or connect with someone about transitioning to civilian life? Leave a comment in the section below, anytime!
—
photo credit: Iraq patrol via photopin (license)