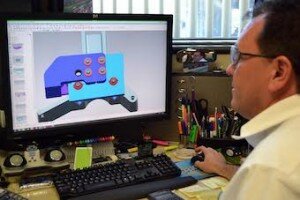 One of the main benefits of the 3D printing process is the speed at which the printers can produce parts, products, and more.
Especially as printers become increasingly quick to convert designs into reality (see "What if 3D Printing Became 100x Faster?"), all sorts of industries are finding new and exciting ways to use the manufacturing process.
It's not simply a matter of convenience, either: 3D printers legitimately have the power to change and save lives. Here are a few examples of when 3D printed products have saved the day, in a myriad of industries.
Knowing how to use the new technology has made all the difference in the world for these people. Often, the impacts of the 3D manufactured products are larger than their immediate use, and bringing a 3D printer and some designs to a wide variety of places can provide the option to manufacture just about anything without having to bring it with you.
In Space: As ComputerWorld explains, there's a major supply chain issue in space: It costs $10,000 per kilogram to blast something into orbit, and a liter of water in space costs $10,000. This means that almost nothing is actually sent with the astronauts because transporting small items is costly. This year, NASA and partner Made in Space, Inc. are going to install a 3D printing station on the International Space Station. This means that 3D printing will possibly be a pathway to humans being able to populate other planets, and will enable more fragile objects to be created in space than ever could have been sent up before. The 3D printer station will be able to receive files with CAD designs transmitted from earth to print a variety of tools astronauts may need, according to Jason Dunn, CTO of Made in Space. This could be a lifesaving tool for astronauts whose lives may depend on something that they couldn't bring with them before.
In the Sky: At the Fleet Readiness Center Southeast at the Naval Air Station in Jacksonville, Florida, a P-3 Orion arrived with a wheel-well truss in need of repair. The truss was for the nose landing gear of the 50-ton airplane: "Not only was this a unique and complex repair, we were under a time constraint with the runway scheduled to close this summer. If that bird didn't leave the air station before June, it would be stuck here for a long time," said mechanical engineering technician Randall Meeker. So, firm Lockheed Martin sent a design of the repair fitting so that the team on the ground could develop tooling to install it. They 3D printed a prototype of the filling, and when tested, the team noticed the flaws in the design. "It would have taken at least a month-and-a-half for Lockheed Martin to manufacture that fitting before they could ship it to us," Meeker said. "If we had received the part as originally designed, we would have missed our deadline."
Questions? Comments? Want to learn more about how 3D printing can save the day? Leave a comment in the section below, anytime!
—
photo credit: U. S. Navy photo by J. L. Wright Jr./Released via 3dprint.com