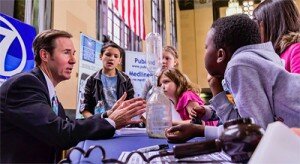 An event not to miss this spring is the 2015 Nebraska Science Festival, which begins today and runs until April 18th. It's a multi-day celebration for Nebraskans to enjoy, understand, and learn more about science in a variety of remarkable ways.
Last year, the four-day festival drew 12,000 people to venues in cities like Omaha, Lincoln, Ashland, Kearney, and Wayne, with remarkable praise: "Every day I heard kids and adults say, 'whoa, this is awesome,'" said Kacie Gerard, coordinator of the Nebraska Science Festival and science outreach coordinator at the University of Nebraska Medical Center.
The festival isn't necessarily targeted towards kids, but rather, aims to stimulate curiosity and excited the minds of children and adults by engaging them in the amazing world of science. Especially for children who may not know about STEM, or might have a misperception of what it means to be interested in science, this is a very important opportunity.
Here are some of the events that will be going on throughout Nebraska during this year's festival. No matter what city you're in, take advantage of the chance to stop by and learn in some really cool ways.
Parents bring your kids! Babysitters, bring your clients. Schools, bring your students! Friends, bring your friends. It's for one and all to enjoy.
Storm Chaser Car on Display: On Friday, April 10th, from 12-10pm, come see the car that nationally known storm chaser Reed Timmer drives when he's out storm spotting for tornadoes, hurricanes, and more. It will be on public display during his visit to Omaha as one of the keynote speakers for the festival. The car has bulletproof sheet metal, an external roll cage, and NASCAR-style safety harnesses in case of a vehicle roll- it's quite the vehicle.
STEM University at UNO: On April 11 from 9am to 4pm, experts in STEM from the University of Nebraska Omaha will conduct hands-on workshops for families! And from 10am to 2pm, there will be free hands-on stations presented by campus stem groups in Roskens Hall. Launch a straw rocket, build with Zome tools, and play with different robots! No registration required.
UNL Weatherfest: If you're in Lincoln from 9am to 2pm on April 11th, head to the Central Plains Severe Weather Symposium and the Family Weatherfest! Past events have included weather-balloon launches, tornado generators, search and rescue teams with equipment on-site, interactive displays, and weather science exhibits. Local area weathercasters will be on hand, scientists will be giving exciting talks on weather and climate in the auditorium, and emergency management vehicles and equipment will be on site. It should be a fascinating day of learning more about our atmosphere and the world we live in!
We'll share more highlighted events as the week goes on, but for now, here's the schedule online if you have any further questions about the weekend! If you go, hashtag #NeMAC and let us know what you enjoyed!
—
photo credit: nescifest.com