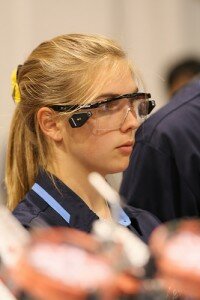 Lawyer, firefighter, surgeon, police officer: There's certainly career niches that are easy for little kids to pinpoint and say, I want to be "that" when I grow up.
On the other hand, though, many kids don't grow up knowing that they want to be a welder, an information technician, or the manager of a manufacturing plant. They don't learn at a young age that there are a myriad of careers focused on the magic of simply creating, and that's part of the problem with our massive skills gap.
In short, there's an image problem. Kids don't understand that manufacturing careers offer opportunities to do work that saves lives, puts men on Mars, and creates our quality of life. Manufacturers build the furniture to fill our buildings, the equipment that populates hospitals, and help produce the food that we eat every day. It's incredibly important work, and it's work that isn't as clear to the general public as it should be.
So, what are ways we can solve this problem? First, parents and schools need to re-situate manufacturing's image issues. These often result from nothing malicious, but rather a lack of understanding. There's not as much transparency with manufacturing as there is with, being a surgeon, for example. There's no length of schooling that everyone in the industry goes through (many workers begin as soon as they finish high school, others have associate's degrees, others have bachelor's degrees). This means that everyone can follow their own, unique path, but it also can create some confusion. It's comforting to know where you'll be, for how long, and what for, so the options available to students need to be more evident.
This is why the "Dream It, Do It" network was launched nationally in 2005: It's a comprehensive effort to end misperceptions, and inspire workers from future generation. In Nebraska, Dream It Do It aims to drive manufacturing growth, foster innovation and jobs, help students find industry certification pathways aligned with career pathways, and most importantly, feed more workers into high-quality, higher paying jobs.
For teachers and educators that want to help with this, they even have specific tips, including finding and matching career opportunities with talented students, promoting manufacturing as a viable career choice, and understanding the technical training opportunities available in Nebraska. We'll have more posts in the coming months about the role of educators in changing the landscape of the skills gap.
Most importantly, we need to change the common stereotypes of manufacturing. As John Ratzenberger reports, "Manufacturing confronts a negative image, characterized by such phrases as declining, dirty, low pay, and more. Consequently, too few highly skilled workers seriously consider manufacturing careers."
This is problematic for many reasons, but it's important to note that this is not permanent– we can change this, and we can help more people find jobs as a result.
Questions? Comments? Want to learn more? Leave a comment in the section below, anytime!