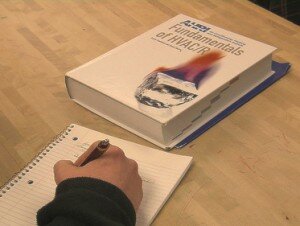 We've talked about Mid-Plains Community College on the blog before: We wanted you to get to know the community colleges in Nebraska, and have also focused on their exceptional Welding and Machine Shop Technology program (read more about it here).
However, what you might not know about MPCC is that they have a whole host of occupational and technical programs ranging from certificates to actual degrees. And with policies like their new Reverse Transfer program and more, it's never been easier to work with a community college to achieve your dreams.
Here are some of the other options for an occupational or technical degree from MPCC. For any other questions about student life, how to become an MPCC student, or the application process, leave a comment in the section below and we'd be happy to help!
Building Construction and Technology: The Building Construction Technology program is what's called an open-entry, open-exit program, meaning that students can earn anything from an Associate of Applied Science Degree, Diploma-54 credit hours, or certificates in framing and exterior construction and building construction. With a degree like this, graduates find employment as bricklayers, stonemasons, concrete finishers, general maintenance and repair workers, boilermakers, carpenters, floor sanders, highway maintenance workers, and more– these positions are just the tip of the iceberg. One cool aspect is that each year, the program works to construct a full-size, three-bedroom home as a major learning experience. Talk about hands-on!
Transportation Applied Technology: This degree covers the fields of Auto Body Technology, Automotive Technology, Classic Car Restoration and Diesel Technology. For car-lovers, this division is an absolute dream, and it will also prepare students for a rewarding career in a transportation-related career. Take Classic Car Restoration, for example: each year, the college restores a classic car, which becomes the face of the transportation division. The two-year program will have students working on the school project, or they can work on projects of their own as well. There are plenty of options, and the school will help you learn how to make what you love not just a hobby but also a career.
Heating, Ventilation, Air Conditioning and Refrigeration: HVAC/R schools are growing globally, as more countries see skilled HVAC/R workers as a necessity for comfortable, safe existence in residential, commercial, and industrial buildings on a day to day basis. Lately, there has been a significant rise in the need for skilled HVAC/R workers to help provide efficient climate control and maintenance. The degree from MPCC will help students find skilled positions doing exactly this: installing and servicing heating and cooling systems. Degree students will even participate in a summer internship with local employers for on-the-job training.
Check out the full list of technical and occupational options here, and send us a tweet or leave a comment below with any questions or comments!
—
photo credit: wistechcolleges via photopin cc