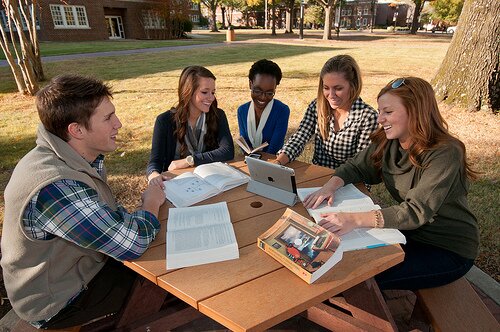 After announcing new initiatives this year to strengthen manufacturing, it's been clear that the United States is headed toward a trend of supporting goals to reduce the skills gap in 2015.
Back in October, President Obama presented some goals to enhance American manufacturing, including enabling innovation and expanding the workforce. Most notably, he made it clear that communicating with America's youth would need to be a huge priority for the government– hence, the additional efforts regarding Manufacturing Day and work with the Department of Education to promote the value of technical education.
And yesterday, Obama made good on this effort with a proposal that took educators and administrators by complete surprise. On the White House blog post from January 8th, the president unveiled a new proposal to make two years of community college free for American students. This is a massive, complicated idea that is more complex than it may first appear, but essentially, the goal is to provide Americans with more knowledge and skills to compete without having to be dragged down by student debt. For those who undertake to complete an associate's degree or bachelor's degree, debt can be a devastating influence that drastically impacts the life of many students.
Logistically, if all 50 states implement the President's new community college proposal, it very well could save a full-time community college student $3,800/year in tuition and benefit around nine million students each year– pretty staggering numbers. Additionally, students could earn the first half of their bachelor's degree or choose to learn technical skills for a skilled career for absolutely no cost. There are caveats for this offer, though: this program would only be applicable to students with a C+ average who attend school (at least) half-time and who are making "steady progress" toward their degree. For community colleges, requirements state that they have to offer academic programs that fully transfer credits to public four-year colleges or training programs with high graduation rates that lead to in-demand degrees and certificates.
"What I'd like to do is to see the first two years of community college free for everybody who's willing to work for it," stated Obama in his White House video posted yesterday. "It's something we can accomplish, and it's something that will train our workforce so that we can compete with anybody in the world."
However, logistically, many have reservations about a program this radical. Bryce McKibben, a former Association of Community College Trustees policy analyst (who recently became a policy adviser to Democrats on the Senate Education Committee), notes that the program could end up doing more for less needy students than those who need it the most, as low-income applicants may already be covered by other federal aid. It's a large undertaking for community colleges as well as the government, and this is not unanimously endorsed.
We look forward to seeing if Congress will pass this proposal, and if so, it could make a huge difference to the face of manufacturing across the country. Closing the skills gap is a major priority, and something like this program could change the way we look at technical careers.
Questions? Comments? Want to learn more? Send us a tweet or leave a comment below anytime!
—
photo credit: University of Central Arkansas via photopin cc