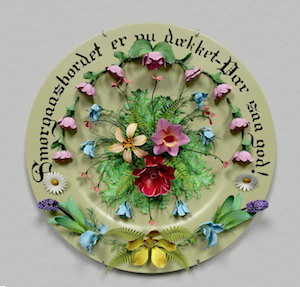 The relationship between art, technology, and science is oft-debated and certainly full of disputed questions. In a sense, art is manufactured, but an artist might disagree with you about whether or not that's the case. In any sense, the materials often used to create art are manufactured, but does that mean a manufacturer is an artist?
Most manufacturers wouldn't describe themselves are particularly-art savvy, and so on and so forth. Especially with the advance of 3D printing, the definition of what art is as well as what manufacturing is are certain to change, and in fact, are already doing so.
Today, January 20, 2015, the Minneapolis College of Art and Design (MCAD) will be testing the limits of both art and digital technology with their new show: "Beyond the Buzz: New Forms, Realities, and Environments in Digital Fabrication." MCAD already works with digital fabrication and 3D printing as much, or more, than many educational institutions, thanks to their Digital Fabrication Lab with Dimension and Zcorp printers, a Universal Laser Cutter, Next Engine and Sense 3D Laser Scanners, and a Techno 3D Router all housed in a shop that is 10,000 square feet. For MCAD students, working with this type of technology in printmaking, sculpture, installation, furniture, and 3D foundations is not only welcomed, but encouraged.
Clearly, as made evident by the emphasis on relationships between digital and art, the new advancements in technology we're seeing every day makes new areas and methodologies of art possible. 25 artists contributed to the exhibit to show "how digital fabrication methods have changed the means and form of art production." If you're in the Minneapolis area and are interested in the future of thinking, manufacturing, and production, this is a great event for you (and it's exciting to see such innovation happening here in the Midwest). If not, here are some of the key exhibits taking place:
Dave Beck: Bob (Arbor Mansion Mowing Lawn) (2009)
Nebraska is featured in the show with this piece from artist-in-residence Dave Beck, who created the Nebraska City Portrait Series while in residence at the Kimmel Harding Nelson Center for the Arts in Nebraska City, NE! Using a GPS device, he shadowed Nebraskans throughout their day, which created unconventional portraits that he then translated into 3D models on the computer. The orange resin captures individuals conducting specific motions as they move throughout the world.
Christopher Manzione: Scholar's Stones (2013)
The artist explains these small 3D printed stones as designed using CAD 3D modeling, 3D scanning, and tablet sculpting. As they were crafted from a variety of materials, Manzione says that "these objects are made to reflect the means and digital environment from which they come."
Elona Van Gent (WheelsClawTeeth) (2006)
This is the artist's largest 3D printed artwork to date, suggestive of unknowable life either presently hidden to us or slated to emerge in the future. Van Gent crafted the work with an old school LOM, laminated object-manufacturing machine.
 —
photo credit: Dave Beck's 3D animation titled, "Smorgasbord" via davebeck.org