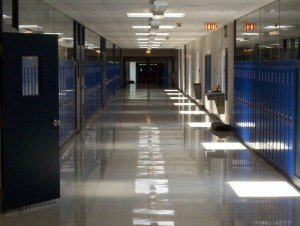 We talk a lot about community and technical colleges here on the blog, and there's no doubt in anyone's mind that those institutions are absolutely critical to decreasing the skills gap and increasing skilled laborers in the United States.
However, as the USAToday reported in November, high schools are becoming ever more important to the education of future technical workers, and they're revising their programs and methods in order to do so in the most effective manner possible.
At Wheeling High School in Wheeling, Illinois, for example, the manufacturing programs are helping to turn out hire-ready manufacturers, prepared to begin their $12/hour jobs in a variety of industries. This is in no small part due to Project Lead The Way, an organization that creates high school engineering and technology curriculum. Since 2009, classes they've designed for manufacturing are now being offered in nearly twice as many schools across the country.
And in the six years since Wheeling began their manufacturing classes, the number of students preparing for labor in nearby metropolitan Chicago has nearly doubled as well. According to USA Today, Wheeling's manufacturing lab resembles a small factory, "with three hulking computerized machines to cut and shape metal, two manual drills, a drill press, a laser cutter, and other devices. In another room with rows of PC's, students write programs that tell the digital machines how to shape formless metal or wood."
Americans aren't the ones to do this first, though. High school programs such as these are following in the footsteps of Germany's education model, one that includes the necessity of choosing a career track and internships as early as the age of 15. Much of this has to do with the fact that skilled labor is more respected and valued than it is in the stigmatized mind of the typical U.S. citizen. Thanks to the newer partnerships of German companies with U.S. community colleges to showcase similar ideas, American high schools are working on showing the benefits of skilled labor at earlier ages than simply when it's time to head to college (or not).
High schools in Nebraska, like Kearney High School, are following along with new developments such as the Scott Morris Institute, designed to help Kearney students connect with manufacturing mentors and have access to the newest equipment. Wayne Schools in Wayne, Nebraska offers manufacturing classes at the Jr and Sr. high schools in welding, metal cutting machine operations, sheet metal, hand tools, and more.
So high schoolers, take heart! It's wonderful to know that there are so many opportunities for career paths, and high school experiences can be interesting and inspiring for everyone, not simply those headed to a four-year university or interested in an academic lifestyle. We look forward to seeing more high schools than ever following this pattern.
Questions? Comments? As always, feel free to leave a comment in the section below or send us a tweet.
—
photo credit: Conspirator via photopin cc