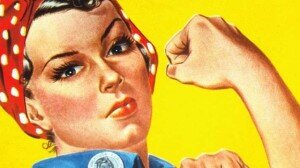 Social stigma is a very real phenomenon, and one of the main hindrances to women working in the manufacturing field. We've talked about this on the blog before, how anyone can succeed in manufacturing, no matter what gender you are and no matter what field of manufacturing you hope to work in.
However, a recent report from the Portland Press Herald (released this November) shows that there is still a major gap not only for skilled workers in the manufacturing industry, but specifically for women in the field.
According to the Portland Press Herald, less than ten percent of young women placed manufacturing among the top five occupations they felt offered opportunity for them. Although women make up nearly half of the U.S. workforce, the number of females in manufacturing has been on the decline in all levels, from blue-collar jobs to top executive positions.
With this in mind, we wanted to highlight a few awesome female role models in manufacturing. There are women out there in these jobs, but not nearly enough, and our country needs to change the stigmas associated with women in STEM careers.
Chandra Brown: Brown is the Deputy Assistant Secretary for Manufacturing in the U.S. Department of Commerce. This means that her responsibilities include overseeing the important organizations and programs dedicated to improving the competitiveness of U.S manufacturers. She also works to boost U.S imports of manufactured products and helps create and support jobs for American workers.
Ginger Wange: Wange is the manager of STEM development for PBS SciGirls, bringing her over ten years of experience in non-profit fundraising, for-profit sales, and trade association membership for a STEM organization. SciGirls is a PBS program designed to promote science and technology for girls throughout the United States, also advocating clubs and personal science projects through their website.
Catherine Werner: Werner is on the Board of Directors for Women in Manufacturing, meaning this lady is a great role model as well as the environmental, health, and safety leader for GE. Ms. Werner has the Certified Safety Professional and Certified Hazardous Materials Manager certifications, along with being recognized as a Fellow of the Institute of Hazardous Materials Managers in 2009.
Doneen McDowell: McDowell also holds a position on the WIM Board of Directors, and is the Plant Manager at the Detroit Hamtramck Assembly and Brownstown Battery Assembly. She's worked in supply chain, engineering, and operations, but currently enjoys her job overseeing manufacturers that build some of GM's most popular and most technologically advanced vehicles (think Chevrolet Volt and Cadillac ELR electric vehicles). The Brownstown Battery Assembly builds advanced lithium-ion batteries that serve as the main power source for the Volt and ELR.
It's always exciting to learn about women doing amazing things in the manufacturing field, especially those that step up to take leadership positions. To find out more about female role models in manufacturing, send us a tweet or leave a comment– we'd love to hear from you!