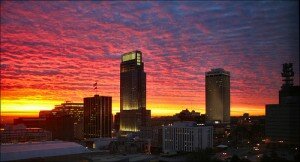 There's nothing more exciting than seeing manufacturing in Nebraska continue to expand. Granted, that's not always the case. No matter how perfect a place is, there is never a guarantee that a business, even a manufacturer will be successful. Plants close all the time, and layoffs and bankruptcy do happen– that's just life. However, for every manufacturer that closes, there is one that grows.
We wanted to highlight a few of those successful businesses for a few reasons. First, there's nothing more inspiring than a good success story. With hard work and business integrity, it's possible to survive recessions and economic downturns. Second, there are some amazing, amazing manufacturers in Nebraska that are redefining what it means to be a "maker" as well as what it means to be a great employer and member of the community.
Smeal Fire Apparatus Co. : Nebraska's favorite fire apparatus (think fire truck, platform, pumper, etc.) made our blog a while back when company president announced that they were hoping to double fire truck production within the next year, and were in need of welders and painters to slap on that shiny red to the trucks. The latest news for our favorite fire truck manufacturer suggests that they're poised to grow even more in the next year, with a renewed marketing strategy and efficient methods of production. Best of all? This company says that layoffs aren't part of their company culture, something that we can always stand behind. Learn more about how the company plans to grow here.
Orthman Manufacturing: Founded in Lexington, Nebraska in 1967, Orthman has been producing high-quality agricultural equipment, conveying systems, and industrial machine tools for over 50 years. In August 2013, Orthman completed a brand new renovation and expansion that opened up over 100 jobs in the community. With their new facility and increased production, Orthman has continued to expand and open up jobs to employ the community near Lexington and Norfolk. The company operates multiple internships each year, and currently has open positions in drafting and design at their Lexington facility. Check out their careers page here.
Linoma Software: Yesterday, Linoma Software celebrated their twenty-year anniversary in Omaha, Nebraska as well as a monumental progression from their modest beginning as a business out of a home in 1994. Though many of their customers have been with the company since the beginning, Linoma has been named to the Inc. 5000 List of top growing companies in Nebraska for the past two years, and has expanded their customer base to over 3,000 installations worldwide (these include government entities, large corporations, and mid-sized companies).
Each of these companies is a testament to the thriving commerce we've seen in Nebraska, found in cities both large and small. If you have one we missed, send us a tweet or leave a comment in the section below! We're a sucker for a good success story.
—
photo credit: kiszka king via photopin cc