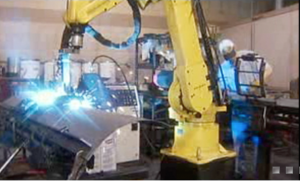 So we chatted a little bit on the blog this week about some signs that a career in manufacturing could be for you– for example, if you enjoy working with your hands or really want to have an impact on our nation, manufacturing is a great fit.
And if you like to be challenged or have an interest in science, engineering, technology, or math, even better! The awesome thing about manufacturing is the variety of career options out there for you to take advantage of.
Today, we wanted to showcase some real world applications for manufacturing jobs that exist in Nebraska now, at this minute. We talk a lot about all the jobs out there, but where are they really? There's a difference between knowing jobs exist and being able to find them, so we're shining the spotlight on positions available at Thurston Manufacturing Company located in Thurston, Nebraska. Thurston is a growing company that has three different brands under their wing: Circle R. Side Dump, Simonsen Iron Works, and Blu-Jet.
On their careers page, Thurston lists all the options for existing positions (and hopes that interested candidates will send resumes regardless—there might be positions available that don't exist on the website). The company offers top entry wages, 8 paid holidays, up to three weeks vacation, 3 accumulative sick days subsidized insurance with vision and dental coverage and a 401k with matching employer contribution. Sounds like a pretty great package, if you ask us.
And the best part is that there are positions immediately looking to hire. So if you were on the job market, say, now, here are some of the real options and positions you could apply for with the benefits listed above!
Assembly Team Member: This position requires a high level of competence to assemble heavy equipment, perform service, work, and travel to destinations with the assembly truck and trailer. Major responsibilities are to follow the Assembly Team Lead in actual assembly of equipment, meaning that this person will be regularly lifting up to 75 pounds. It's important that anyone in this position positively represents the company with a high standard of work and maximizing efficiency of the team through individual contributions. Team players, this is a great job for you.
Welder: After a material handler locates jigs and parts to position them in the welding station, a welder will load welding wire and weld the parts (between 6 and 300 pieces each shift). Minor maintenance of the equipment and proper etiquette around machinery must be followed according to policy. Thurston is currently hiring welders for all shifts—so if you're a welder looking for work, look no further!
Other open positions within the company include quality inspector, painter, design engineer, and draftsman.
There are such a wide variety of incredible careers that provide the opportunity to receive good benefits and work for a fantastic company. Curious about any of these or want to learn more? Leave a comment in the section below or contact us anytime!
—
photo credit: Simonsen Iron Works