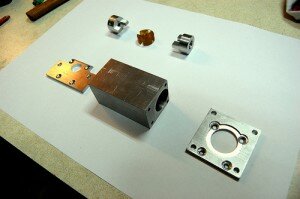 Manufacturing today is an incredible career field with a wealth of opportunities for those who choose to work in it. It's a fun, challenging, rewarding environment to work in every day–but how can you know if it's the right path to take?
Here are 5 signs that a career in manufacturing might be for you:
You enjoy working with your hands. People in the manufacturing industry get the great opportunity to work with their hands every day. Whether that means welding, assembly, CNC operation, or anything in between, the opportunities are endless! Getting to see the fruits of your labor every day is often cited as a great part of a career in manufacturing.
You like keeping up with new technology. Want to work with the latest and greatest technology? Manufacturing is on the cutting-edge of tech! Not only will you be working with cool new technology, you'll also likely be producing it! See our collection of videos of manufacturing technology at work for an idea of what we're talking about.
You want to have an impact on our nation. Manufacturing is a significant contributor to exports and national GDP. No small-time impacts here–a career in manufacturing allows you to truly make a dent in the future of our country.
You like to be challenged. No two days are ever the same in manufacturing. As manufacturing continues to get more technically advanced, employees in the manufacturing industry get new opportunities to solve tough problems and figure out unique solutions. Plus, we like the fact that the problems you solve in manufacturing can have an enormous impact on the entire industry.
You have an interest in science, technology, engineering, or math. STEM skills are an essential part of any career in manufacturing. If you find yourself interested in science, technology, engineering, or math inside or outside of school, there's a great chance that you'd fit in well in the manufacturing industry!
If you meet these characteristics, a career in manufacturing may be for you! Find out more by reaching out to us on Twitter, and be sure to visit the Students page on our website for more information.
—