If you were around or blog last month (or if you keep up on the Omaha World-Herald), you'll know that Omaha just recently got its first commercial 3D printing business: the 3D KuL Factory. They do "3D solutions"–from 3D CAD design to 3D engineering and more–and also, unsurprisingly, 3D print projects.
But what exactly does a commercial 3D printing shop print?
We thought we'd do a little more digging to find out. As it turns out, 3D KuL Factory produces a wide variety of 3D printed projects. Here are a few that caught our eye:
A local manufacturer had a problem: a small gear in their CNC machine kept wearing out, and perhaps more worryingly, it was very expensive to replace. Rather than keep buying the part, they went to the shop who reverse engineered it with scanning technology, and produced a replacement accurate to 1/100th of a millimeter (!). This small part saves the shop time and money–both of which are valuable resources.
Just like 3D KuL Factory notes on their project page, you shouldn't let the name fool you: these little boots are an integral part of a local shop's business. This client makes 1/6th size figures of movie characters and was having trouble tracking down boots for a project. After 3D scanning the full-size boot, they were able to print an exact replica down to every last detail. The end result is going to be a part of a limited production run, and helped the model maker solve a problem that could've otherwise been insurmountable.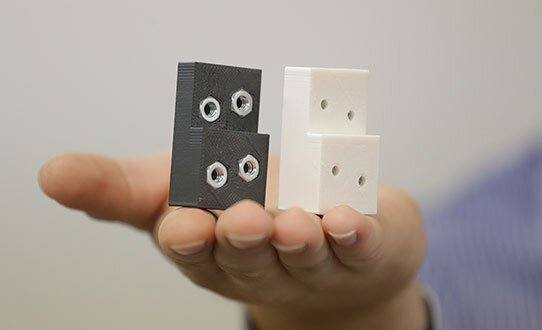 A manufacturer and installer of customer commercial aluminum doors came to the shop needed to fill an open space between the aluminum frame of the door and jamb where they mounted–a space that shims were too big for. 3D KuL Factory engineered an insert that was printed with mounting nuts inside the part to help overcome stripped threads. The test worked well, solved the problem, and once again, saved the client money and time!
So there you have it: some very practical (and interesting) uses for Omaha's first commercial 3D printing shop! The sky is the limit for what 3D printing can do, and if you can believe it, this is only the beginning of what 3D printing could do. And with that, we have to ask: what could you do with a 3D printer given the time and opportunity to experiment? That answer lies within a manufacturing career–who knows what you could achieve!
—
Photo credit: 3D KuL Factory