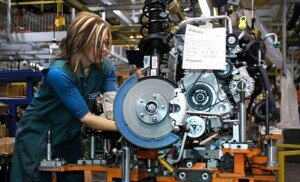 There have been countless headlines in the news over the course of the past week calling the United States' manufacturing sector a "rising star."
And no report has been more influential in that time frame than a report released on Friday by Boston Consulting Group.
According to Daily Finance, "A new ranking of the competitiveness of the world's top 25 exporting countries says the United States is once again a 'rising star' of global manufacturing thanks to falling domestic natural gas prices, rising worker productivity and a lack of upward wage pressure."
China still remains at the number one spot in terms of manufacturing competitiveness, but the country may be under some pressure–the United States is now ranked at number two for overall competitiveness.
According to the BCG, the biggest factor that influenced the United States' rebound was cheaper natural gases. Fortunately, the price of natural gases has fallen over the past ten or so years "as a result of the shale gas revolution."
One more reason that the United States has jumped into second place is because of its stable wage growth, which in essence means that "industrial wages here are lower today than they were in the 1960s even though worker productivity has doubled over the same period of time," as Daily Finance notes.
Costs in the United States are somewhere between ten to twenty-five percent lower compared to other goods-exporting nations, other than China. The United States is getting cheaper, and that's a very good thing for global manufacturing competitiveness.
In a press conference held by BCG, Michael Ziner said, "While labor and energy costs aren't the only factors that influence corporate decisions on where to locate manufacturing, these striking changes represent a significant shift in the economics of global manufacturing."
While America is not the only "stand-out star"–the report also shows Mexico's lower average manufacturing cost–there is no doubt that America will continue to push its productivity to become on par with the leading manufacturing country in the world. We're glad to be a rising star, and can't wait to see what the future holds for manufacturing in America!
—
Photo credit: Bill Pugliano/Stringer via Slate