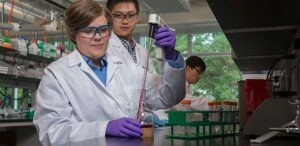 Here on our blog, we've reinforced time and time again that it doesn't take a four-year degree to get a job in manufacturing–and that's still true.
Even so, four-year degrees are still an important part of closing the skills gap for certain people and subsets of manufacturing (something we've also mentioned before here on our blog). And to that end, we have good news as far as the skills gap is concerned: STEM enrollment here in the United States is up!
According to research by Jerry A. Jacobs, professor of sociology at the University of Pennsylvania, and Linda Sax, professor of education at the University of California at Los Angeles, "the percentage of freshmen planning to major in STEM increased from 21.1 percent in 2007 to 28.2 percent in 2011, just as the recession was prompting many students and families to focus on the job potential of various fields of study. That represents a 48 percent increase in just a few years."
Jacobs and Sax used data from the "freshman survey," a study of freshmen across the nation in four-year universities. With that, they found that engineering, biology, physical sciences, and math are all seeing increased enrollment within the last few years, a positive sign that STEM education around the nation is starting to pick up steam.
While four-year colleges are obviously only part of the equation for closing the national skills gap in manufacturing, it's still very good to see increased interest in fields like engineering and math, both of which have a lot of practical application within the advanced manufacturing of today. It's no guarantee that these students will end up in manufacturing, but considering the fact that such a large part of the skills gap can be attributed to a shortage of students interested in STEM, this is at the very least a step in the right direction.
Whether you have plans to go to a four-year college, a two-year college, a technical school, or even go straight into work after completing high school, we encourage you to follow the lead of these students over the past few years and give STEM education a look. The career opportunities in manufacturing are endless if you have an interest in and talent for STEM-related fields, so really, there's no reason not to give it a shot!
—
Photo credit: Inside Higher Ed