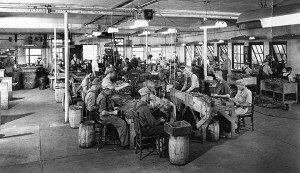 Good news, Nebraska residents: the economies in the Midwest and in Nebraska are on pace for continued strong growth!
As the Lincoln Journal-Star noted earlier this week, "the economy should continue growing steadily in nine Midwestern and Plains states, including Nebraska, according to a monthly survey of business leaders released Tuesday."
The Mid-America Business Conditions Index, an indicator for economic health and activity in the Midwest, has a neutral level of 50. And as the Journal-Star notes, the MABCI for March improved to 58.2 from 57.4 in February, the fourth consecutive month of growth above that neutral level.
Creighton University economist Ernie Goss, who compiles the survey, said that "The pace of Nebraska growth is quickening. Nondurable goods manufacturers, including food processors, are expanding output and jobs while growth for durable goods producers has slowed to nil. I expect the overall Nebraska economy, including manufacturing, to expand over the next two quarters according to our survey results."
The long and the short of it? The economy here in the Midwest is doing very well, and Nebraska plays a large part in the continued growth we're seeing here.
We continue to believe that it's a great time to be a part of the Midwest, and a great time to be interested in manufacturing (but then again, when isn't it a good time to be a part of Midwestern manufacturing?). And this new report only serves to reinforce our belief that Nebraska really is a great place to be.
We're glad to see this continued growth, especially here in the manufacturing sector. And now, the question is: how do you plan to contribute to the Midwestern economy?
—
Photo credit: Made In Nebraska Exhibit