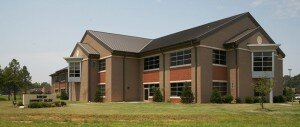 There are a lot of reasons why kids love school.
For students at Robeson Community College (RCC) in Lumberton, North Carolina, they are especially appreciative of their school because the school gave them to opportunity to catch a glimpse at the future of manufacturing.
Interactive activities, like magnetic racetracks, virtual welding software, and even robots, were available to the students as apart of RCC's "Manufacturing Awareness Week".
Manufacturing Awareness Week began on Monday the 7th of April and lasted four days filled with workshops and speakers.
Manufacturing Awareness Week began last year when it attracted students from across the country, all with interests in a career in manufacturing. The week was created so that students could become more interested in the work that is needed within America.
While the events are held at the community college, the focus is to garner more attention from high school and perhaps middle school students who might be thinking about going into the manufacturing field.
They are trying to recruit these kids.
Organizer Angela Sumner said to The Robesonian, "I think a lot of the focus of the Manufacturing Awareness Week was to show kids that these aren't the old-fashioned dirty jobs from years ago but there are more manufacturing jobs using advanced technology."
Places all around the globe, and especially in America, are trying to recruit kids from a young age. States open their factories and allow high school kids to come and tour the workspace.
RCC's Manufacturing Awareness Week did things a bit differently. At the beginning of the week, a demonstration of electronic training equipment was shown, while two manufacturers talked about employment opportunities around North Carolina.
Tuesday began with a chance to see a large mobile exhibition and another demonstration, including new virtual welding software by the Robeson Community College's Advanced Manufacturing program.
RCC was giving the chance to do this in part from a grant awarded to the entire state of North Carolina from the U.S. Department of Labor for $18.8 million to lead an advance manufacturing initiative in colleges across the state.
A lot of interest is shown from kids and students who are unaware that these types of tools even exist. Without hands-on activities that events like "Manufacturing Awareness Week" at RCC gives the students, kids wouldn't learn that they do have a chance to become apart of a growing filed.
"I think we were able to give them a taste of what it is like to work in manufacturing," said Sumner. Similar programs are popping up all over the country—including here in Nebraska—and if you ask us, the fact that these programs are spreading is a really good sign.
—
Photo credit: Robeson Community College