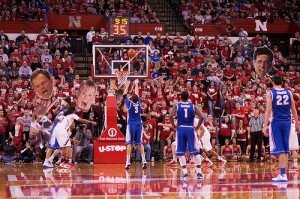 It's that time of year again! Time for the most exciting event in college sports: March Madness!
While we'll have to wait until later this weekend for the state's Nebraska/Creighton basketball matchup that's sure to happen on Sunday, we have plenty of fun stuff to hold us over until then.
One of those fun things that's keeping us busy is 3D printing. We just mentioned it a few days ago in relation to the 3D printed food that's making its way around the United States, but as it turns out, there's plenty of March Madness related 3D printing making its rounds, too.
To celebrate the kickoff of March Madness, we gathered up some very cool basketball-related 3D printing news. Have a look below:
3D Printed Sneakers: Looking for some basketball shoes to keep with you for that impromptu basketball game? The Sneakerbot II shoes are 3D printed, foldable, and supposedly fairly durable. We haven't gotten our hands on a pair just yet, but what could be cooler than a pair of 3D printed shoes?
3D Printed Knee Implants: Basketball isn't always full of fun and enthusiasm–sometimes, injuries take over. But when they do, it looks like 3D printing may actually offer a little bit of help. Doctors and engineers are experimenting with 3D printing to make more precise knee implants that could get you back in the game that much faster. There's still a long ways to go, but we're excited about what the future may hold for this tech.
And finally, we have what may very well be the coolest little piece of technology we've seen since March Madness started: a 3D printed desktop basketball set!
Made using a pre-existing file from Thingverse, this desktop basketball set was printed using a MakerBot Replicator 2–one of the most common consumer 3D printers. If we had a 3D printer sitting around the office, you can be sure that we'd have printed one of these sets already. After all, is there such thing as too much basketball during March Madness?
We're counting down the hours until our Huskers and Bluejays tip off in their respective games tomorrow. And until then, we hope you enjoyed our collection of March Madness 3D printed news! Now, if only they made 3D printers that could make sure both of our teams win tomorrow…
—
photo credit: White & Blue Review via photopin cc