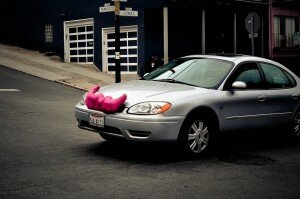 If you've ever used a service like AirBnB, a company Forbes notes as the "poster child of the collaborative consumption/peer economy sector," you've probably heard the term "sharing economy" being tossed around. Thanks to the Internet, of course, technology has enabled the emergence of peer-to-peer businesses, in which anyone can become a retailer through sharing sites.
Back in 2013, The Economist wrote about the emergence of the sharing economy as a business model that works for items that are expensive and widely owned by people who aren't using them. From camping spaces in Sweden to washing machine in France, users can "sell" access to these expensive items through an app or a website.
In 2016, we're in the midst of a sharing economy, in which ownership of expensive items is increasingly devalued at the expense of renting or short-term purchases. For entrepreneurs, this cultural shift is tremendously exciting. According to a survey by CareerArc, 90% of respondents believe that the sharing economy is a positive evolution of the labor economy, and 67% of people agree that the sharing economy is here to stay. 57% of job seekers have even considered working in the sharing economy.
Startups like AirBnB and Uber may very well be the poster children for peer-to-peer consumption, but 2015 also witnessed the continuation of this model into the agriculture industry, a sector rife with expensive machinery. In December, the Kansas City-based Farmlink launched MachineryLink Sharing, an Internet-based equipment sharing program. It follows the model of AirBnB, where users rent out their bedrooms, except farmers can rent out their equipment and tools for a given date. The owner of the equipment sets the price, and once the transaction has been completed, FarmLink collects 15% of the total transaction cost.
Earlier in 2015, manufacturer Caterpillar Inc. invested in a similar equipment rental company, The Yard Club, a San Francisco company with an analogous model for the construction industry. "Peer-to-peer technology has changed other industries like transportation and lodging, and Yard Club has developed an innovative solution initially for the construction equipment industry," said Phil Kelliher, Caterpillar's vice president with responsibility for Americas Distribution Services Division. "Using this platform, a contractor can rent an excavator that's in between jobs to another contractor who needs that machine. The Cat dealer will use this tool as another avenue to strengthen customer relationships by increasing the utilization rates of heavy equipment and lowering the total cost of equipment ownership."
As far as we can tell, this type of website does not exist for manufacturers yet, although Andrew Anagost argues that manufacturing has always been a sharing economy with machines for hire. While the sharing economy could certainly benefit manufacturers who need specific machines for certain projects, it remains to be seen the extent to which these websites will disrupt purchasing patterns for expensive machines and how the machine repair industry could benefit from increased longevity of complex machinery.
To quote Anagost, "There's one thing about manufacturing, though. It's always trying to stay ahead of the curve—for good financial reasons, of course." We'll be interested to see the ways in which manufacturers encounter the curve of the sharing economy in 2016, and we have no doubt that the sector will remain at the forefront of innovation.
—