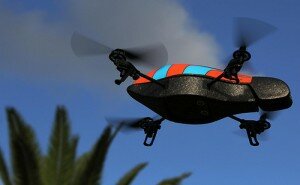 Humans have always been compelled by flying objects. Ever since Orville and Wilbur Wright took the first aircraft up into the skies over Kitty Hawk, North Carolina, some of the most extraordinary human inventions have utilized the air above us. Orville's first flight was in the gasoline-powered, propeller-driven biplane, which remained aloft for approximately 12 seconds and flew 120 feet.
A little over one hundred years later, certain drones, "unmanned aerial vehicles," can fly at hundreds of miles per hour, shoot from far distances, and take high-resolution photographs, among other possibilities. Good ol' Orville is probably chuckling from his grave.
Drones have been the talk of the technology world in the last several years, particularly as they become more user-friendly and/or ubiquitous thanks to companies like Amazon using them for delivery (although in an ironic non-technological twist, Amazon gives a nod to the past when they say their drones will be more like horses than cars). Another space in which drones are becoming increasingly popularized is STEM education, including in school districts right here in Nebraska.
Why use drones in science classes? Jeff Ingraham, technology specialist with Educational Service Unit 3 (a political subdivision that provides technology support to 18 eastern Nebraska school districts), recently purchased 25 drones as a way to seek out technology that would be important to schools in the future, reports the Journal-Star. "It just seemed to be an incredibly compelling way of engaging students, specifically in STEM concepts—science, technology, engineering, math—that is so important for the future of our nation," Ingraham says.
South River High School in Annapolis, Maryland, considers drone education to be the future of "shop" or IT class, hence their newest offering of "Introduction to Unmanned Aerial Systems." In the course, students learn how to pilot drones, use 3D printing technology to adapt their drone systems, and even submit a business case for drone use before the year's end.
At Whitetail Creek Elementary in Gretna Public Schools here in Nebraska, technology specialist Paul Clark used the technology for a younger age group to help them translate their work with decimals into real life: "Some of them turned the drones on and let them fly for 2.3 seconds to get it to go exactly where they wanted it to go… When programming drones, kids must be aware of movement along three dimensions: the x, y and z axes. It was really kind of fun because they had a chance to actually apply something they learned in class to a real-world situation."
While the most common educational uses have been in science classrooms, ELA teacher Heather Wolpert-Gawron says that drones (as a topic) can even be used in a variety of subjects from social studies to current events: "Form a student congress. What about privacy issues? What is the future of our workforce if companies like Amazon use drones for deliveries? Are drones a good technology, or are we one step closer to automaton domination?"
You can read more about drones in Nebraska schools here, and it's certainly exciting to see cutting-edge technology inserted in elementary, middle, and high schools. The challenge for both teachers and students remains in finding ways to use drones to make education tangible for students. Creativity is key, and we look forward to seeing ways in which schools will adapt flight in new and nontraditional ways.
—
photo credit: Parrot AR Drone 1 via photopin (license)