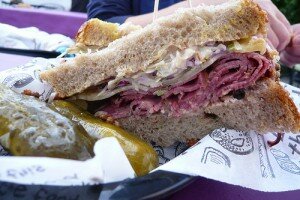 If you're a fan of the mouthwatering Reuben sandwich, a heaping helping of corned beef, sauerkraut, Swiss cheese, and Thousand Island dressing on rye bread, you have a Nebraskan to thank. While stories differ, it's widely believed to have been invented at Omaha's Blackstone Hotel by Reuben Kulakofsky.
Interestingly enough, Nebraska is also well-known for developing the McDonald's McRib. In the 1970s, University of Nebraska professor emeritus of animal science, Roger Mandingo, was approached by the National Pork Producers Council to create a product made from pork trimmings that they could sell to McDonald's. McDonald's chefs crafted a sauce to accompany the "restructured meat," and the rest is history.
From Reubens to T.V. dinners to McRibs, to now, snow melting-concrete, Nebraska's invention history is full of people who dreamed big and turned their concepts into reality. Here are a few other inventions Nebraska inventors and manufacturers have brought to the world. If we're missing one, leave a comment in the section below to share with others!
Snow Melting Concrete: Just this week, a Nebraskan is making international news for an invention that could potentially change the way we all encounter winter. UNL civil engineering professor Chris Tuan has invented a special concrete mix studded with electricity-conducting ingredients that instantly melts snow.
"When you use conducting concrete, the entire concrete heats up," he told National Geographic. "There is no cold area." The system is virtually maintenance-free and takes only 13 watts of energy per square foot. As you might imagine, the FAA is certainly interested in using the system for tarmacs and runways at airports that struggle to clear snow.
Collapsible Voting Booths: In 1905, the idea for collapsible voting booths came to Elizabeth Robb Douglas in a dream about a way to meet her financial pledge to a Tibetan missionary. The Douglas Manufacturing Plant was launched in 1905 and still operates in Crete today!
They've expanded their lineup from voting booths to other steel and election products, handicapped booths, collapsible ballot boxes, election-day signs, and more. Today, Douglas Manufacturing is still operated by Roger Douglas, great-grandson of the founders.
Cushman Model 53 Airborne Scooter: Lincoln was sad to see a piece of Nebraska history go in 2003 when the Cushman Motor Works plant was purchased by the University of Nebraska-Lincoln (you can read more about the company history and sale in the Daily Nebraskan).
The company was known for manufacturing engines for farm equipment, but one of their most famous products was introduced in WWII, an airborne scooter designed to be dropped from a plane with a parachute and airborne soldiers. The scooters helped soldiers to maintain mobility and communication between their units, and certainly played a large role in the war effort.
You can read about more interesting Nebraskan inventions here. Questions? Comments? Want to learn more about any of the above? Leave a comment in the section below or send us a tweet at @NebraskaMFG, anytime!
—
photo credit: zingerman's sandwich via photopin (license)