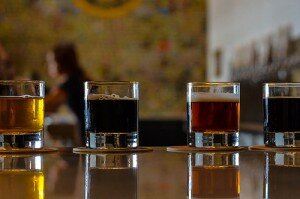 Back in May, we highlighted a few of the breweries in Nebraska manufacturing craft beer, like the Nebraska Brewing Company, Blue Blood Brewing Company, and Empyrean Brewing Co (you can read the full article here). In May, breweries were the talk of the town thanks to bill in Nebraska that would provide a tax credit for brewers who used Nebraska-grown hops and barley. This week, breweries in Nebraska made the news once more: The Grand Island Independent News, to be exact.
Lauren Sedam reports that the burgeoning craft beer scene has taken off in Nebraska in a big way, with breweries arising in rural communities like Broken Bow and Ord. A brewery is even planned for Taylor, with a population of just 200. "It's a community pride thing," says Nate Bell, founder of Kinkaider Brewing Co. in Broken Bow, Nebraska. "It's a community beacon. It's a place for people to meet and discuss the day's work."
Caleb Pollard, owner of Scratchtown Brewing in Ord, echoes the sentiment that customers want more than just a beer; they want an experience: "It's being driven by the consumer, and the consumer is demanding a different product that currently isn't available in Nebraska, especially here in Central Nebraska."
The newly emphasized "customer experience" is an aspect of brewing that has become ever more important as breweries proliferate throughout the United States. In "Through the Eyes of the Customer," James Watson explains that wrapping the beer in an emotional experience, providing a great product, and making customers feel as if they're part of a movement or answer to a problem are all keys to the success of a craft beer experience. And with the upsurge in rural brewing in Nebraska, if will be difficult for Nebraskans not to sense that their beer at the local brewery is part of something bigger: a contribution to Nebraska's economy, manufacturing, and food and beverage industry.
Here are a few of the local, little-guy craft breweries that are revitalizing the Nebraska beer scene these days. Stop in next time you're in town, or make a day trip to head out and support Nebraska business with a cold beer—sounds like a win-win to us!
Kinkaider Brewing Co.: Founded by four Nebraska boys born and raised in-state and located on a farm in Broken Bow, it's impossible not to see the Great Plains appeal of this home-raised brewery. They're known for having 12 rotating beers in their taproom, all brewed from sandhills water and using local ingredients. Even the Tap Room, built with rough sawn wood, hammered copper, welded steel, and wrought iron feels like a taste of the Midwest.
Brickway Brewing Co: So, Omaha isn't necessarily a "small town," but this local brewery was too good not to mention. They're a brewery, but they're also Omaha's first distillery since prohibition and the only combination brewery/distillery in the entire state. You can find their beers at bars, restaurants, and liquor stores throughout the state.
Scratchtown Brewing Co.: Opened in 2013, the Ord Brewing Company is proud to be located in the Nebraska Sandhills, partially because they can draw water from the Ogalala aquifer right under their feet to brew their premium, handcrafted beer. Stop by their tap room to sip something delicious, and enjoy the atmosphere of Ord while you're at it.
Questions? Breweries we missed? Leave a comment in the section below!
—
photo credit: Modern Times via photopin (license)