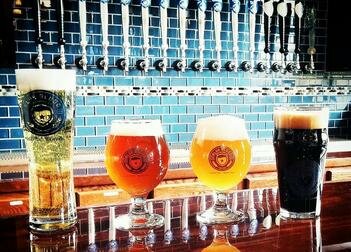 Put down your Bud Light, and instead, reach for one of these homegrown beers from Nebraska's outstanding breweries.
Breweries and microbreweries around the state grow hops in one of the 12 acres of hops fields in Nebraska, process, package, and provide to the public for their drinking delight. It's a unique variety of manufacturing, and one that's been in the news lately thanks to a new bill in the Nebraska legislature that cleared the first-round debate last week.
The measure would provide a tax credit for brewers who use Nebraska-grown hops and barley, would redefine hard cider as beer, and would allow more restaurants and bars to sell growlers (refillable large bottles) of craft beers for off-site consumption.
It's a win-win situation for both manufacturers and drinkers. According to the Seattle P-I, Nebraska has the highest beer tax of its surrounding neighbors– brewers are looking for locally sourced products, and Nebraska farmers need a reason to grow more hops. "I don't see why Nebraska couldn't do it. There's so much land out here," said Shad Rhynalds, former president of the Nebraska Hop Growers association and partner with Lincoln-based Blue Blood Brewing Company. "It's been proven that local crops sell quick."
Here are some of our favorite Nebraska beer manufacturers that will be potentially affected by the bill. More growers and more locally sourced crops? Count us in.
Nebraska Brewing Company: Founded in 1992, Paul Kavulak transformed his hobby into 13 years worth of creating fantastic beer. From 2009-2011, the company realized that they were selling every ounce of beer that they could make. So, they created a packaging brewery and tap room in La Vista. The new facility helps them achieve their goal of changing the landscape of Nebraska craft beer, and their Ale Storm, Hefeweizen, Brunette Nut Brown, Cardinal Pale Ale, and more are great representations of Nebraskan beers.
Blue Blood Brewing Company: The Lincoln brewery is inspired by "roots in the law enforcement and homebrewing scene, and meant to bring people together." With Happy As Ale, Ethan's Stout, Wicked Snout, Big Log Wheat, and Last Call on their roster of outstanding beers, they serve out of their taproom in Lincoln on Thursday, Friday, and Saturday. It's worth a stop in to try their different brews and flights!
Empyrean Brewing Co: Also located in Lincoln, this brewery was the first Nebraska Craft beer to bottle their beer, beginning in 1999 with their Third Stone Brown, LunaSea ESB, and Chaco Canyon on store shelves. In 2004, they sold 2,850 barrels of beer and had four brands among the top 20 best-selling craft beer brands in the state. They've only continued to grow since then, and have opened two new locations to serve their handcrafted beer out of.
We're fans of advocating for our state manufacturers, and adding them to your drinking roster is one fantastic way to do that! Questions? Comments? Want to learn more? Leave a comment in the section below!
—
photo credit: Bluebloodbrewing.com