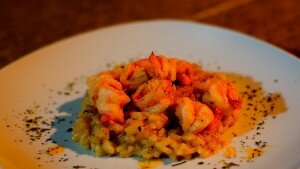 As manufacturers, we're aware of the ways in which 3D printing could truly revolutionize the manufacturing industry. We're already seeing "smart factories" appear with rows of 3D printers instead of industrial machines, and there's already a wide world of downloadable designs for people to print at home. In some ways, additive manufacturing is like the grassroots sister of Industrial Revolution factories. Only now, your factory is in your house or your local library.
As it turns out, the food manufacturing and production industry has the potential to be drastically revised, as well. Since the advent of additive manufacturing, people have immediately turned to attempts at finding ways to use the new technology to adapt our food processes. For instance, meet the CocoJet, a partnership between Hershey and 3D systems that has the power to print dark, milk, or white chocolate in a variety of designs that are "ideal for the baker or chocolatier."
However, not all foodies are convinced about the ways 3D printers are being used for food production. In a recent TED Talk, "food designer is not impressed by the current 3D food printing hype in which the printers are basically being used as shaping machines to transform chocolate and sugar into fancy shapes" (ahem, see CocoJet above…). Instead, Dutch concept designer Rutzerveld wants to convince the world that technology, design, and science can create healthy and sustainable 3D printed food. Not only can this food address our sustainability issues and ecological footprint, but it can also be healthy and delicious at the same time. Is it too good to be true?
You can watch the entire TED Talk to find out, but Rutzerveld has conceptualized a company called Edible Growth that aims to fill just this niche. While the company isn't off the ground yet due to research and software that haven't yet been invented, the idea is there—which she claims is half the battle.
How does it work? "Multiple layers containing seeds, spores, and yeast are printed according to a personalized 3D file. Within five days, the plants and fungi mature and the yeast ferments the solid inside into a liquid. The product's intensifying structure, scent, and taste are reflected in its changing appearance. Depending on the preferred intensity, the consumer decides when to harvest and enjoy the delicious, fresh, and nutrient-rich edible."
The idea is fascinating, but most 3D food printing news at the moment focuses less on large-scale, organic production and more on utilizing 3D printers to create small-batch, artisanal food. In Los Angeles just this week, the 3DS Culinary Lab opened, featuring dishes and cocktails that incorporate 3D elements. Think 3D printed onion powder cube in a bowl that dissolves under hot oxtail broth, 3D printed pumpkin and maple waffle with quail egg, or a handcrafted cocktail garnished with a 3D printed crystal of smoked salt.
Right now, though, the Plate explains that when 3D printed food is designed to be nutritious, not just exotic, "Most of this 3D stuff isn't what most of us think of as food. These are edible synthetics…the high-tech equivalent of the 19th century's much reviled portable soup." In other words, we've got a long way to go before the synthesis of taste and nutrition is cemented strongly enough to be viable as a legitimate option.
What do you think? Could you see 3D printed food revolutionizing the future of healthy eating?
—