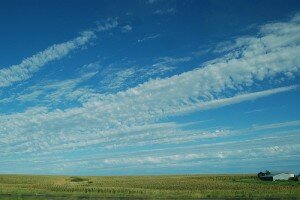 Yesterday, writer Kurt Badenhousen from Forbes reported that although there seems to be a general dissatisfaction with the economic environment in America, there are a few states that seem to be doing just fine.
"There are parts of the U.S. that are thriving thanks to strong workforces, low business costs, and pro-business regulatory environments," said Badenhousen. "With that in mind, Forbes embarked on its annual look at which states have the best business climates."
Nebraska received a pretty healthy chunk of those accolades; we were ranked third and were one of the highest movers up from number seven last year on the list of best states for businesses and careers. Because Forbes included ratings for fiscal health and legal climate, Nebraska shot up several spots (can you say low levels of unfunded pension liabilities and reasonable tort liability systems three times fast?). However, our low unemployment rate of 2.6% is a blessing and a curse. Yes, more people have great jobs, but employers are having a pretty tricky time finding workers.
Other reasons Nebraska topped the list, according to the World-Herald, is that Omaha is home to Berkshire Hathaway and other large employers such as Mutual of Omaha and TD Ameritrade. According to Sean Johnson, senior director of business attraction at the Greater Omaha Chamber of Commerce, Nebraskan productivity makes a difference. "It is productivity and work ethic," Johnson says. "Companies which had not done business before in greater Omaha come here and see people showing up half an hour early and staying half an hour late, and it is just a real testament to the people of our area."
These types of lists and ratings should always be taken with a healthy dose of salt. Although we've made lists before (Kearney is on the list of best places for millennials, Nebraska is one of the best states in which to find a job), no rating is perfect, and simply saying that somewhere is the best place to find a job in manufacturing doesn't mean you can stroll into your nearest welding shop and walk out with a career in hand. However, there is a lot of truth in there, and these lists are often worth looking at if you're trying to choose where your next living destination will be.
Here are a few of the other lists Nebraska has made in recent history:
#7: The Happiest, Healthiest States in the USA: These ratings by Gallup are based on over 176,000 phone interviews with people in all 50 states. We're number seven on the list of how people feel about and experience their daily lives, measured in purpose, social, financial, community, and physical categories. Not bad!
Best Places to Retire: This one is listed alphabetically, but Lincoln, Nebraska did made the top 25 cities to retire in.
Top 100 Best Places to Live: Lincoln, Nebraska (which was also incidentally named the Happiest City in America in 2015), made the list for being a powerhouse example of "great education, business advancement, and entrepreneurial growth."
Any fun lists that we missed? Leave them in the comments section below!
—
photo credit: Clouds Over Farm Country via photopin (license)