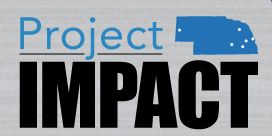 Are you a military veteran?
Are you a trade adjustment assurance-eligible worker?
Do you need an industry certification?
Are you interested in a high-demand, high-skill, high-wage career?
If so, you may be a member of the audience that IMPACT Nebraska is attempting to reach. Born of a grant awarded by the U.S. Department of Labor's Employment and Training Administration, Project IMPACT is a collaboration between a collaboration of five Nebraska community colleges: Central Community College, Metropolitan Community College, Northeast Community College, Southeast Community College, and Western Nebraska Community College.
The goal? To offer and develop a Diversified Manufacturing Technology Certificate. If you keep up with the blog, this may sound familiar: We wrote about the manufacturing diploma now offered at NCC a few months ago, but what's important to know is that you can receive this certificate anytime at these five outstanding educational institutions.
The other (in our opinion) truly cool thing about IMPACT Nebraska is that they offer workshops for those who need to work on application skills or skills for success in their college experience. Especially for veterans or long-term unemployed workers who may have been out of the educational sphere for a while, this is a huge, huge benefit.
You can learn about:
Interviewing: Get the Career You Want: This CCC workshop walks you through the steps to take once you have an interview for your first job. It will provide you with the ten top most popular interview questions, what to wear, and how to follow up after your interview. Hello, new career!
Free Services to Help You! MCC introduces hundreds of government and nonprofit agencies that can help with legal matters, housing, financial literacy, tax preparation, and more.
Stress Management: There's no way around it: Life can be stressful. NCC gives tools to cope with stress at this workshop, including how to determine your stress level, and what it means.
Financial Planning for College: SCC takes you through how to save money on fees, books, supplies, and more, along with learning how to fill out the FAFSA, Federal aid, scholarship applications, and state aid applications.
Personal Financial Planning: Even if you aren't heading to college in the near future, this workshop will help you sort out your financial priorities and reduce debt.
These are just a few of the workshops Project IMPACT offers; check out their website for a full list and information on how to contact the college's representatives to find out more information! You can also contact the representative to learn more about how to begin applying for one of the career pathways available through Project IMPACT. Once you begin, we bet you'll find yourself excited about the possibilities that this Diversified Manufacturing Technology Certificate could have in your life.