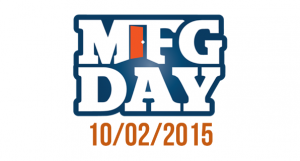 We'll just say it: Friday was an awesome day. Nebraskans turned out in full force to celebrate Manufacturing Day, Nebraskan manufacturing workers, and the plants that make our great state tick. With almost 2,000 manufacturers in Nebraska, a day to honor the second largest industry in the state is a way for employees to honor their profession and the public to learn about what manufacturing truly is. You can scroll through the official @MFGDay Twitter account for updates on what went on around the country, but in case you missed it, here are some of the highlights from the day:
Governor Ricketts Celebrated in Norfolk: KTIV noted that Governor Pete Ricketts, along with other local business and political leaders, toured Nucor's facility on Friday. The company presented the governor with a framed photo of the plant signed by all of Nucor's employees, and Ricketts signed a proclamation declaring that Friday was National Manufacturing Day. "We want to create a culture of accountability and excellence, figuring out how we can do a better job of serving our customers and bringing our costs down, just like you have to do in the private sector," Ricketts said. Watch the video here.
Omaha Public Schools Tour Manufacturing Plants: Ten middle schools and high schools from the Omaha metropolitan area toured plants and facilities for a learning experience that simply wouldn't exist otherwise. Distefano Technology and Manufacturing hosted 30 students from Bellevue West High School. "Unless students are put in a position to do something like this and actually see it, they don't have any idea of what it's like to be in this industry," Brian Turner, vice president and general manager at Distefano told the World-Herald. The hope is that days like these will spark better attendance and give students a vision of what their future has the potential to be in a manufacturing career.
Beatrice Open Houses are a Success: Beatrice was one community that embraced Manufacturing Day with open arms. Neapco, Worldlawn, Precise Fabrication, and Industrial Maid all hosted tour groups that walked through to experience what it's like when the company is manufacturing at full capacity. For the companies themselves, this held another appeal: "The biggest challenge we face this year is a labor shortage," said Neapco vice-president J.C. Styles. "Giving tours and showing people what it is like could open doors for many."
Columbus Manufacturers Host Students: Columbus, Nebraska is home to some extraordinary manufacturers, including Behlen Mfg. Co, Archer Daniels Midland, BD Medical, Camaco, Duo Lift Manufacturing, John Crane-Orion, and Loup Public Power District—all of whom hosted students from Columbus schools on Manufacturing Day.
Thanks to all who participated. We're already looking forward to next year!
Questions? Comments? Want to learn more about any of the above events? Leave a comment in the section below, anytime!