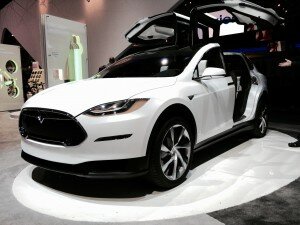 In case you wanted evidence that there are manufacturing jobs out there for those who want them, take a look at the open positions for luxury automobile manufacturer Tesla, located in Fremont, California: They are hiring diagnostic engineers, equipment maintenance technicians, die cast process engineers, production supervisors, quality inspectors, and more for their locations in Fremont, Shanghai, and Grand Rapids. On Tuesday, it became clear that the company certainly needs these extra hands after releasing one of the most sought-after vehicles in the entire world earlier this week.
On Tuesday night, CEO Elon Musk revealed the Tesla Model X, according to NetNebraska. Even if you're not a car aficionado, it's still pretty amazing to see the reveal of the first-ever all-electric SUV, what Tesla calls the safest, fastest, and most capable sport utility vehicle in history. You can't purchase the vehicle at the moment, but you can reserve one for delivery in the latter half of 2016.
So, what's so unusual about this car? For a price tag of $130,000, one would assume that it is a work of manufacturing art and skill combined. First, the Model X seats seven people in three rows: "the second row seats are a work of art," the company says. "Mounted on a single post and independently reclining, each second row seat is designed to maximize passenger comfort, legroom, under seat storage, and access to the third row." The USAToday adds that "It also comes with what Tesla describes as one of the largest windshields ever put on a vehicle. The windshield extends all the way past the top of the driver's head. Front passengers will get not only a panoramic view of the road, but of the trees and sky passing by."
Musk said that the car received a five-star rating from the National Highway Traffic Safety Administrations. However, the safety feature that really caught our eye was the "bioweapon defense mode" button in case you find yourself in a Will Smith movie. "The button should come in handy if there's ever an apocalyptic scenario of some kind," says Musk. There's already all sorts of debate about whether or not this button actually works (see Gizmodo article here). He says that the car's HVAC system is approximately 800 times better at filtering out viruses than other cars, and the bioweapon defense mode creates positive pressure inside the car's occupants. On the other side of the coin, you need to know that there's a biological attack happening in order to push the button.
Where does Tesla manufacture these beauties? The Tesla Factory in Fremont contains 5.3 million square feet of manufacturing and office space. They use state-of-the art robots to turn, lift, weld, and assemble the aluminum occupant cells in their cars. The operation is able to produce more than 100,000 vehicles annually, and the company has continued to add details such as high-efficiency overhead lights, an upgraded assembly line, and revamped employee facilities to improve their workspace.
What's truly exciting about Tesla and manufacturing is that they continue to push the limits of innovation and invention. We love to see manufacturers striving to create something beyond what already exists. Questions? Comments? Want to learn more? Leave them in the section below, anytime!