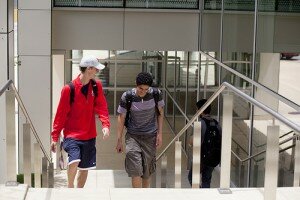 These days, it isn't very unusual for a student to begin at one university or transfer to another. Many students take advantage of completing their general education at a community college, and transferring those credits to a different university to save some time and money.
This makes complete sense. Sometimes, you aren't quite sure until you're in a program if it is or isn't the right degree for you. If you find that an institution just isn't working well for your goals, it may be time to transfer.
Glenn DuBois, chancellor of Virginia's community colleges, tells U.S. News that completing an associate's degree is the first step towards success for students who are planning on transferring to a university: "National research shows that community college students who finish their degree program complete the baccalaureate at a much higher rate than those students who transfer with simply a grab bag of credits." If you begin at a community college and know you want to eventually transfer, make sure to select courses that you are positive will transfer to the college or university of your choice.
DuBois also explains that many states have "articulation agreements," which are negotiated documents, often online, that make it explicit what's needed to transfer from one higher institution to another. You should never guess about what courses to take or what grades you need to earn. Take a look at your college's articulation agreement to find to exactly what's needed to gain acceptance.
This millennial fluidity and ease of transfer is one of the reasons that the University of Nebraska, the Nebraska State College System, and the Nebraska Community College Association developed Transfer Nebraska, a "convenient one-stop shop for researching course transferability between Nebraska's higher education institutions."
Essentially, it's a database with information on 64,500 course equivalencies among four NU campuses, the Nebraska College of Technical Agriculture, three state colleges, and eight community and tribal colleges. "Transfer Nebraska is an important tool that will help students earn the degree that is right for them," says University of Nebraska executive vice president Susan Fritz. "We've moved from 16 different mechanisms about informing students about transfer options to a single system that gives current or consistent information."
The website offers:
An easy, quick-click method of seeing whether your courses will transfer
Course descriptions that help you see the similarities and differences between courses
Multi-year college catalogs to identify the exact course you took in a specific year
Course codes, numbers, and credits that help you select the right course to take for optimum transfer
As they remind you, however, your transfer is your responsibility. The website is a resource designed to make your life easier, but is not a substitute for meeting with a transfer or academic advisor.
—
photo credit: Campus Fall 2013 27 via photopin (license)