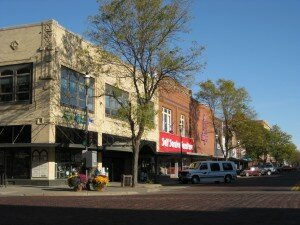 It's the constant refrain from manufacturers around the world: Darren Robinson, president of the Development Council of Buffalo County, tells ABC Team Kearney that the biggest challenge for Kearney manufacturers is finding trained skilled labor. "As a result of our low unemployment rate, our employers are trying to work with individuals who have limited experience in these areas. Without pre-placement training, the challenges with workforce turnover are costly, unproductive, and do not meet the employers' needs to produce product," says Robinson.
In terms of demographics, Kearney's largest gap is in their number of workers who graduated from high school but did not attend or graduate from college, so their skillsets fall somewhere between a high school and a college degree. This is what has been called the "middle-skills gap," and has plagued businesses around the country.
In New England, for example, the middle-skills gap is projected to become acute by 2020. Without intentional public policy, migration, industry, and labor market factors will harm New England's economy, says the New England Board of Higher Education. Using Massachusetts as a case study, 36% of Massachusetts high school graduates attend community college and 90% of those graduates remain in the state. So upon first glance, it seems as if community colleges should be the answer to this problem. However, MA community college graduation rates are in the teens; few people are actually completing these degrees.
In the Midwest, the trend is to make career and technical education (CTE) intertwined with K-12 education, so that all students leave with some degree of career readiness: "Workforce development and training programs are critical, but they're insufficient by themselves," says Kate Bloseveren Kreamer, associate executive director for the National Association of State Directors of Career Technical Education Consortium. "There is a real efficiency and value in embedding more workforce training into the K-12 system." In this way, the middle-skills gap will be reduced through equipping younger students with technical skills throughout their education, rather than tacking it on at the end.
In Kearney, closing the middle-skills gap is one of the primary aspects of their vision to make the city stronger. The Buffalo County city was named a quarterfinalist in the nationwide ABC Competition, America's Best Communities (read more about the competition here). Kearney won $50,000 to help outline the community's "vision for a stronger future and develop a detailed strategy to achieve economic revitalization and enhanced quality of life." One of the ways the team leading this effort plans to do this? By increasing attention and support for developing skilled manufacturing labor.
"Manufacturing has long been a key driver of economic activity and community development in Kearney. By putting it at the heart of our revitalization plan, we will ensure necessary resources are invested to help fuel our city's resurgence," said Todd Gottula, a member of ABC Team Kearney.
Read more about the economic development plan here.
—
photo credit: Kearney, NE via photopin (license)