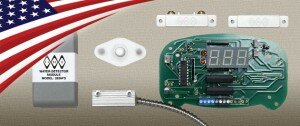 Nebraska's governor, Pete Ricketts, had a busy road trip to take last Friday on Manufacturing Day in Nebraska! Joined by Joseph Young, the executive vice president of the Nebraska Chamber of Commerce and Industry, he traversed the state to visit Nucor Steel in Norfolk, Sargent Pipe Company in Broken Bow, and a manufacturer in a town that we don't talk about nearly enough: George Risk Industries in Kimball, Nebraska.
Kimball, with a population of about 3700 on the border of Nebraska, is known for being the "High Point of Nebraska" with the highest point in the state located just 33 miles from the city. However, what many may not know is that Kimball is also home to some of Nebraska's most outstanding manufacturers.
George Risk Industries, for example, has been a manufacturer in Kimball for over 50 years, according to the Western Nebraska Observer. Founded by George Risk in 1965, originally in Columbus, NE, the company relocated to Kimball and Risk's son, Ken, assumed the helm. Ken grew the company from 75 employees to more than 150, added a 10,000 square foot building to the main plant, and opened a satellite plant in Gering, Nebraska.
Sadly, Risk passed away in 2013, but the company is still run by a Hastings, Nebraska local and family member, Stephanie Risk-McElroy. You can read the full history and leadership here, but from magnetic reed switches to proximity sensors, custom-engraved keycaps, and more, it's important to know that George Risk Industries is paving the way in the security industry.
In other words, the storied manufacturer was a perfect place for Ricketts' visit on Manufacturing Day. He spoke to the plant and several journalists, and touched on a few key points:
The way to incorporate manufacturing into growing Nebraska's economy overall: "Manufacturing is hugely important in the state of Nebraska. Manufacturing is our second biggest industry, it accounts for about 13 percent of our overall state economy, and provides for almost 100,000 jobs across the state. We've got nearly 2,000 manufacturing facilities across the state of Nebraska. When we talk about creating more opportunities for our young people and growing the state, we have got to talk about manufacturing."
How growth in Kearney and Hastings can be a model for other cities: "We did it recently in Kearney and Hastings in the fields of IT (information and technology) and manufacturing. I look to continuing to promote that program. The good news there is lots of other school districts that are doing every kind of approach to do that."
Why private sector companies need to integrate with school systems: "One of the things I have done to help do that is create a grant program called Nebraska Developing New Talent Initiative. I want to do is promote getting private sector companies involved with our school systems to help create that curriculum."
It's always wonderful to see government support for some of the western Nebraska cities that don't always get as much press or attention as those in larger cities. We hope to highlight more rural manufacturers on the blog in upcoming months: Any we should focus on? Leave them in the section below!
—
Photo credit: George Risk Industries