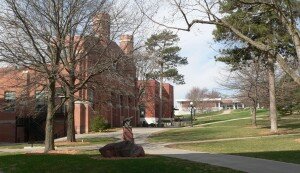 It's easy to see that in Nebraska, the larger universities can sometimes steal the spotlight. After all, we are tremendously lucky to have institutions like the University of Nebraska-Lincoln, the University of Nebraska-Omaha, or even Creighton University, located here and doing outstanding work with Nebraska education.
However, this means that some of the smaller colleges in Nebraska can be more easily overlooked. Unintentionally, of course.
It's our mission to showcase not just the show-stealers in Nebraska, but smaller or less well-known schools that can provide an equally exciting education in the STEM subjects. On the blog today, we're going to look at a few public four-year colleges with relatively small populations, but no shortage of talent, that are doing great work with students today. Sometimes, these types of schools have immense potential for financial aid or opportunities that don't exist at massive universities, and are always worth a look.
Other benefits of attending a small college, according to U.S. News, include smaller class sizes and potentially increased opportunities for one-on-one contact with a professor. These types of schools can also be more flexible with curriculum requirements, sometimes allowing students to design their own major or program of study. Remember that each student's needs are different, and it's important to make sure that a school is right for you before committing.
Peru State College: Peru State is located in Peru, Nebraska, and is actually the first and oldest institution in Nebraska. Their total population is about 2,500 students each year, making it one of the smaller four-year liberal arts colleges in Nebraska. What we really are excited to highlight here is their Rural Health Opportunities Program, a collaboration between Peru State and UNMC that admits students from rural backgrounds to Peru State with a full tuition waiver.
Students with goals of being health care professionals can receive free tuition, and are expected to return their skills to medical practice in rural Nebraska after they complete their degree. They offer seats in the nursing, pharmacy, physician assistant, medical laboratory science, physical therapy, and radiography fields. Learn more about this opportunity here!
Chadron State College: Chadron State, located in the Panhandle of Nebraska, has about 3,000 students and has gone on to produce congressmen and women, meteorologists, football players, and even Nobel Prize-winning nuclear physicists. They also offer the RHOP program like Peru State, along with plenty of degree programs from geoscience to interdisciplinary studies in natural resources to chemistry and physics. Physicists can follow in the footsteps of Nobel-winner Val Logsdon Fitch, known for his work with subatomic reactions.
Wayne State College: It's the largest of these three schools, with a population of 3,500. Wayne State offers 90 different programs of study, and even works with Northeast Community College in Norfolk to provide additional classes. If you tour the school in October, you're eligible to win $800 to the bookstore, so now's the time to explore! You can check out their website and course offerings here, but what's important to know is that WSC is committed to helping students remain as debt-free as possible- always the best goal!
Want to learn more about any of these schools? Leave a comment in the section below, any time!
—
Photo credit: Wikimedia Commons