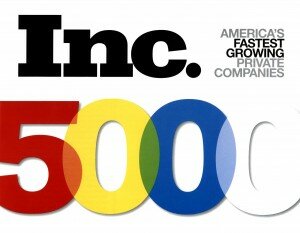 On the blog last year, we mentioned a few of the companies that made the 2014 Inc. 5000 List, including Hudl, Complete Nutrition, and Headwind Consumer Products. As the Tribune Media Wire explains, the calculation for the list is "dead simple—a basic three-year growth rate on annual revenue."
However, the list of the 5,000 fastest-growing private companies in America is highly anticipated by businesses each year. While some of the famous companies on the list are predictable (Toys "R" Us, 7 Eleven, Pandora), there are always some dark horses or companies who make the list for the first time.
Not all companies on the list from Nebraska are manufacturers; in fact, most aren't. Manufacturing is a notably difficult industry to expand in quickly, thanks to a distinct lack of labor (hello, skills gap) and the need for significant demand that warrants investing in new machines and technology. Retail, telecommunications, and health industries tend to top the list most years. This means that for the manufacturers who make the list, the honor is prestigious.
Here are some of the Nebraskan manufacturers who made the list in 2015! If you're searching for a job in manufacturing, you may want to check out one of these outstanding companies (that are clearly growing quickly!) If you'd like to check out all of the Nebraskan companies on the list, click here and sort by state.
Foundation Supportworks: According to their Inc. profile, Omaha manufacturer Foundation Supportworks has grown by a whopping 88% in the last three years. After being founded in 2008, the company has added 19 jobs and increased their yearly revenue to $43.5 million—not too bad!
The company's area of expertise is using support systems and their products to fix foundation structural problems, like failing retaining walls, tilting chimneys, or the settling of heavy homes, offices, and apartment buildings into the ground. Sales Development Director Kurtis Kammerer was also featured in the Huffington Post this year for giving advice on how to make better decisions under stress. Clearly, they're making the right decisions over there at Foundation Supportworks.
Headwind Consumer Products: Located in Syracuse, NE, this company was also founded in 2008 and has experienced 110% growth this year, despite their tiny size. Today, they have 12 employees, and the company continues to grow after being purchased by Garner Industries to create and keep jobs in rural Nebraska, a mission we can always support! They have over 100 items in their product line, but their specialty is the world famous EZREAD rain gauges. They also manufacture decorative solar lighting and EZREAD thermometers.
Congratulations to all Nebraska companies named to the list!
—
Photo credit: Inc.