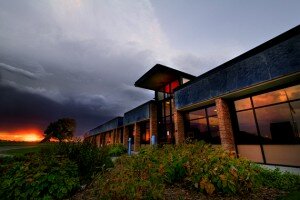 Community colleges are often viewed as schools for people who want to develop skills before transferring to a university or a way to save money by working on general classes. In actuality, there's a much broader range of people that can benefit from time at a community college. According to US News, there are four types of people who can be a great fit for these types of classes:
Students Who Aren't Prepared to Leave the Nest: If you're a homebody, it can be difficult to move to another place, start at a new school, and build a new life. Debi Gaitan, vice president for Student Success at a community college in Texas says, "The close-knit environment, small classes, and proximity to home can help students succeed, and the success that they build at the community college level can prepare them to take on more challenges."
Nontraditional Students: Don't be led astray by the term nontraditional students; it can mean almost anyone from a variety of backgrounds, academic histories, and ages. Thomas Snyder, president of Indiana's Ivy Tech Community College, says that "the traditional four-year schools—both public and private—aren't organized to take care of adults." Community colleges, on the other hand, are ready to accommodate adults' academic, professional, and personal needs, which are often different from the typical 18-22 year-old.
Students Who Need Additional Training: If your desired career path doesn't require a four year degree and you aren't keen on spending the money to get one, community colleges are fantastic for helping professionals gain certifications without an extra degree.
Lifelong Learners: Many community college students are there purely for the love of learning. Since classes are reasonably priced, additional schooling can be a fantastic opportunity to learn more skills, whether to assist existing careers or simply feed a passion for knowledge.
If you're Nebraskan and any of these descriptions sound familiar, you're in luck. This month, Mid-Plains Community College announced just another way that they're breaking down barriers to community education for many of the above learners: Meet Sunday College. Busy workers, people with careers and families, stay-at-home parents, high school students, and current college students can take advantage of attending classes on Sunday afternoons and early evenings. The classes are offered at all six of MPCC's campuses: McCook, North Platte, Broken Bow, Imperial, Ogallala and Valentine.
It sounds too good to be true, but it's not. The classes are hybrid courses, meaning that the live classroom interaction happens on Sundays, but you can complete coursework outside of class through an online component. By taking this program, students can get their associate's degree in just 24 months. Best of all? They're still counted as full-time students, meaning that Sunday College learners are eligible for financial aid.
If you're reading this post and thinking, "Wow, this could be an awesome fit for me," we'd urge you to get started applying today! Contact Heather Pucket at 308.535.3710 or by email at pucketh@mpcc.edu and mention that you're interested in Sunday College. She'll help you get started with the admissions process, and soon you'll be taking steps to a happier and more successful future!
—
Photo credit: Mid-Plains Community College via FindIt